Have you ever wondered what injection moulding machines are the most represented on the used machinery market? We have run a study, analyzing data from over 14,000 used injection moulding machines ever listed in our catalog, the results may surprise you.
Note: most of the machines used for the analysis were located in Europe.
Top injection moulding machine manufacturer: Engel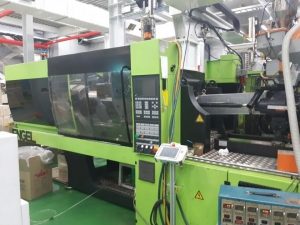 With over 1 machine in 10 being Engel in the Exapro catalog, the Austrian manufacturer ranks first in our study. Used Engels are represented everywhere in the world.
Their well known "tie-bar-less" machines are very popular on the used market, mainly because they can fit large molds other machines with similar tonnage can't. Also known as the "Victory" model, this is the most listed one on Exapro.
Overall, Engel injection moulding machines come in many different types:
hydraulic presses
fully electric presses
both horizontal and vertical
Arburg comes second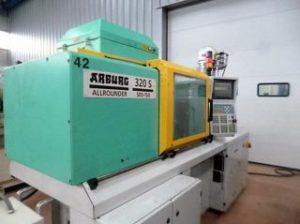 There is a very high demand for used Arburg injection moulding machines. This is particularly true for machines with a tonnage higher than 200 ton. In this range, the offers on the used machinery market become rarer, and as the demand keeps high they usually sell very fast.
Most of the Arburgs that have been listed on Exapro were ranging between 50 ton up to 130 ton.
Juste like Engel, Arburg offers a wide range of hydraulic, electric, horizontal and vertical machines. They also offer hybrid machines to have both the speed of an electric press and the precision of a hydraulic one.
Third place for Krauss Maffei
Being another German-based injection moulding machine manufacturer, Krauss Maffei is also a popular brand on the used market. These machines are well known for their quality and resistance in time. Used Krauss Maffei injection moulding machines are available both in small and larger tonnages, which makes them highly interesting for machinery buyers.
Like other well-established manufacturers they offer automation systems with:
industrial robots
side entry robots
linear robots
pickers
A small surprise: Battenfeld is 4th
One would expect to see here other well-known European manufacturers like Sandretto or Negri Bossi, but it's really Battenfeld (today Wittmann Battenfled) ranking fourth in our study.
Used Battenfelds come most of the time in larger tonnages than the average (above 200 ton). The most represented series are BK, TM, and HM.
Since 2008 Battenfled is part of the Wittmann group, a very well known manufacturer of robots for injection moulding machines.
Demag to conclude our study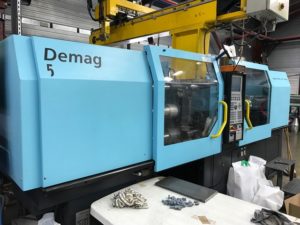 The fifth manufacturer most represented in our study is Demag. Just like Arburg and Krauss Maffei, this manufacturer originates from Germany and is well known for the quality of its products.
The "El Exis" and "Ergotech" series are the most common ones when it comes to used Demag injection moulding machines. The highest demand is for large tonnage machines (over 800 ton) where the offer is usually low and machines can get sold very quick.
The other European manufacturers that come after the top 5 are Italian: Sandretto and Negri Bossi and not far behind. These machines are naturally popular in Italy but also in developing countries where their price usually cheaper than German machines are attractive.
Thank you for reading our articles, stay informed about the industrial world and Exapro by following us on Exapro Hub, Facebook, Twitter and LinkedIn.