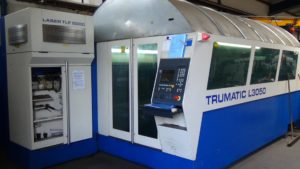 Among hundreds of laser cutting machines on offer, it's easy to get lost. This is why we prepared the overview of the best manufacturers of laser cutting machinery. In this guide you will find the top 3 brands and much more machines are available in Exapro online catalog of Cutting machines – Laser.
Trumpf laser cut machines
Product portfolio of Trumpf laser cutting machines contains machines to match even the most sophisticated requirements. It doesn't matter what type of sheet metal you need to process, Trumpf will most surely have the right machine in the product range. Generally, there are two main types of laser cut machines by Trumpf. Classical CO2 laser cutting machines are popular due to very high quality of the final cuts which need no further finishing. Parts cut by Trumpf CO2 lasers are immediately ready for further processing.
Trumpf solid-state lasers are known for their ability to cut thin sheets of metal and to perform this action quickly. Compared to CO2 lasers, the energy is absorbed by the material in a more intense way allowing to perform fast cutting. On Exapro we have a wide selection of used Trumpf laser cutting machines – older and newer models for the most competitive prices!
Amada laser cutting machines
Amada laser cutting machines definitely come first on the list of top manufacturers in sheet metal category. These laser cutting machines are actually so good that we dedicated a separate post to Amada laser cut machinery. In brief, Amada is also offering its clients two types of laser cutting machines. This includes fiber laser cutting machines and CO2 laser cut machines. CO2 laser cutting technology comes in a versatile range from 1kW to 9kW. Choosing Amada lasers, you're doomed to increase productivity and final cut quality while reducing operating costs.
Used laser cutting machines Bystronic
Bystronic has a versatile offer of laser cutting machines enable to perform operations of various difficulty. Generally, there are 3 types of laser cutting machines by Bystronic. Bystronic fiber laser belongs among the relatively new type of technology in laser cutting. The way fiber lasers work is that the beam is created and transported through fiber to the cutting head of the machine. What are the advantages of fiber lasers compared to CO2 lasers? Despite smaller size (fiber lasers are much smaller than CO2 lasers), they generate twice as much power. Small and powerful, fiber lasers are suitable for processing of thin metals as well as medium-thick metal sheets. They are also used to cut copped and brass which are so-called non-ferrous metals.
However, Bystronic also has CO2 lasers in product portfolio. To create the laser beam to cut metal sheets, CO2 laser Bystronic uses a mixture of special gases. High voltage is also necessary to complete the procedure. It is created with the help of semiconductor excitation modules. CO2 laser model is the most standard and versatile one, suitable for all-rounders processing thick metal sheets and various types of materials.
In Bystronic product portfolio, there is also a third type of lasers: cutting gas lasers. This type stands out in a product range thanks to the laser beam which is focused in the cutting head with help of the lens and further directed towards metal sheet by a nozzle. Nozzle represents the pathway through which cutting gas (oxygen, nitrogen or compressed air – depending on the application) is flowing.