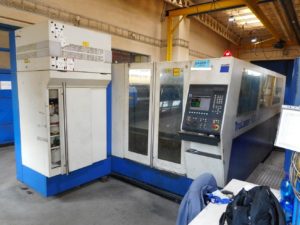 Trumpf is a high-tech company with three separate divisions including Machine Tools and Power Tools, Laser Technology and Electronics as well as Medical Technology. All of these are branches that are combined under the umbrella of the TRUMPF GmbH + Co. Holding which is a global network of production, sales and service companies and one that supports the business activities of all these divisions.
As a leading high-technology company, Trumpf is a name that has been linked to innovation for a lot of years – producing machine tools, lasers, press brakes and electronics for all kinds of industrial applications. The diversity of the products (including vehicles, building technology, and mobile devices as well as power and data storage) has made it a name that guarantees innovation and is always a step ahead of the competition.
Brand history
It all started in 1923 when Christian Trumpf acquired several medical workshops of Julius Geiger in Stuttgart and launched his very own company. The brand Trumpf was founded by Christian but kept the name Julius Geiger GmbH.
The first company logo was all about flexible shafts. Even though the company focused on shafts at first, the motorized drive made them expand their thoughts on industrial manufacturing.
Several years after that, the company had 70 employees and was obviously growing to larger production sites. In 1933, the company moved to Weilimdorf, a suburb near Stuttgart, and started manufacturing the first motor-driven hand shears for cutting sheet metal.
The name change came in 1937 when the company is renamed 'Trumpf & Co.' after Christian Trumpf, who managed to grow it to over a hundred employees at the time. During the Second World War, the company managed to maintain its product range and remain intact. In the late 1940s, Trumpf decides to shift to the construction of stationary curve shears and gets modernized with a new line of equipment (stationary machines).
Trumpf made its first million in 1950, with around 145 employees and an adjustable stroke curve shears model that was famous at the time for its quality and longevity. Berthold Leibinger takes the leading position after his godfather (Christian Trumpf) and makes a leap forward to internationalization. Ever since then, Trumpf has opened a lot of plants, launched new processes and expands all thanks to the new machines with lasers that set it apart from the competition.
Presently, Trumpf is tapping into new fields and expanding its target industries. The company even established its own bank in 2004 that offers flexible financing on TRUMPF products for customers worldwide. The group management has been re-organized, and the company does its best to respond to the challenges of the future with dynamic brand development.
Product range: The Trumpf machinery and their area of use
The line of products that Trumpf specializes in is diverse nowadays. There are various manufacturing solutions in many fields, including:
Machines and systems: Trumpf is one of the leaders in machine tools and laser systems designed for sheet and tube processing. This has been the core business of the company ever since the beginning and has been revolutionized with advanced laser processes, 2D and 3D cutting applications as well as laser welding over time. There are laser cutting machines, 3D laser cutting tools, laser welding systems, laser tube cutting machines, 3D printing systems, marking systems, punching and nibbling machines, bending machines, storage systems and automation tools.
Lasers: The true specialty for Trumpf comes with their laser technology. Inspired by their continuous innovation in the field of industrial lasers, they always have the right beam source available for different needs. The Trumpf lasers are universal in many industrial applications and are perfect for cutting, welding, marking as well as surface processing.
Power electronics: From induction heating to plasma excitation and laser excitation, Trumpf is also a big name in power electronics. Its product range includes DC, MF and RF generators which develop and supply an innovative bi-directional inverter that feeds the power generated through renewable energies into storage systems.
Power tools: In order to adapt to the diverse needs of industrial applications, Trumpf has been designing professional electric and battery powered tools that are made of high-quality and are the product of new technologies. From construction sites to workshops, these products can be used to cut, connect and edge-form sheet metals.
Smart factory: Industry 4.0 is the name of the trademark that sums up all the modular networking solutions from TRUMPF and helps manufacturers improve the flow in their facilities. The software is based on a digital factory concept that ensures flexibility and cost-effectiveness.
Software: There is an entire range of TruTops software tools that help manufacturers cover their entire production process – from the customer inquiries to the actual dispatch.
Services: Trumpf also offers various services that bring a benefit and help you adapt your TRUMPF products with the flexibility to changes or make most of the new ways to maximize the added value.
The average price of  used Trumpf machines
The price of laser cutting machines has always been dictated by brands like Trumpf. As a critical part of sheet metal machines, laser cutting has been used not only for cutting but also for engraving or boring metal. As such, it has been of high value in the past.
So, the prices for Trumpf laser cutting machines start at $250k for a completely new machine – but can also be found for as low as $50k for used Trumpf machines that have been operating since 1997. The good thing is that Trumpf also offers a used machine marketplace where prices vary depending on the year of production and the years of using the machinery.
Trumpf also motivates manufacturers with tight budgets to buy their pre-owned machines that come with a top second-hand quality and first-hand knowledge and advice (provided by their team). It is up to you to find the right offer and ensure a proper quality check – which can also be done by the Trumpf experts.
Thank you for reading our articles, stay informed about the industrial world and Exapro by following us on Exapro Hub, Facebook, Twitter and LinkedIn.