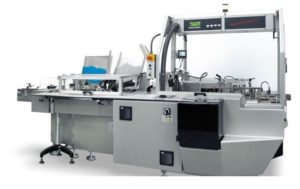 Choosing the right packaging machine for your production business is the crucial step which can not be underestimated. Every producer of consumer goods understands the importance of further product distribution and promotion. Product presentation plays critical role in how clients react to your produce. Which is why packaging machines represent such a valuable commodity on the used machinery market.
When it comes to making the right decision in terms of a suitable used cartoning machine, there are a few factors that need to be taken into consideration. By asking yourself these 4 simple questions, you can be sure to choose wisely in the end. Let's get down to the essential questions which will help us to get to the right purchasing decision.
What kind of product needs packaging?
In most cases, the type of product will directly influence the choice of cartoning machine. For instance, if your product is granular, free flowing, the most convenient way to fill it into the cartons is from the top. In this situation, your choice of cartoning machine will be limited to vertical cartoning machines only. However, the nature of the product might allow horizontal loading into cartons. In this case, horizontal cartoning machines should be number one choice for your business. Naturally, understanding the nature of product and business needs comes first. It's easy to imagine, how much a business would benefit from the right choice made on the very basic stage of decision making process.
What is the budget?
As soon as you determine the type of product that requires cartoning, setting the budget for your project is the second main step. Financial capabilities will directly influence the range of cartoning machines you'll be choosing from. Stay open-minded and don't limit your choice to new cartoning machines only. In fact, used cartoning machines are available on online trading platforms like Exapro for much more favorable prices. What is going to strike you when looking for cartoning machines that majority of available machines are horizontal in nature. Horizontal cartoners are generally more popular since they provide users more flexibility for a lower cost. However, if you need to pack products like powder, granules or capsules, you should naturally stick to vertical cartoners.
On-line or off-line packaging?
As a business owner, essentially you have the idea that on-line and off-line packaging have different requirements for cartoning machines in terms of their power and speed.
On-line packaging
On-line packaging stands for packaging of products as soon as they leave the production line. Products need to be packaged immediately, so the cartoning machine speed should match the production speed. To figure out the speed of cartoning machine, simply calculate the maximum number of products made per minute/hour etc. and divide it by the number of items fitting into each carton.
Off-line packaging
Packaging off-line means that you are packaging certain products that have been produced previously. In this case, you don't take production speed into consideration. To calculate speed and power of cartoning machines suitable for off-line packaging, take the following parameters into account. Consider how many items need to be out ready for shipment every day, week or month. Make sure you only consider actual working hours of the machine and not just simply multiply or divide everything by 8 working hours per day. Make the volume estimates carefully, with full precision. This step is very critical for the future of your business. Overestimating your actual needs can lead to a purchase of a more expensive and powerful equipment which is not really necessary.
Most suitable cartoning machines?
After determining the type of the machine (vertical or horizontal cartoner) and setting up the speed and power requirements you should have a more or less clear idea of the most suitable cartoning machine. The last and final stage is to make an actual purchase after looking through various offers of new and used equipments. In online machinery catalog like Exapro, you can filter offers by machine type (horizontal cartoning machines and vertical cartoning machines) and furthermore by year of manufacture, machine location and other technical data. Efficient use of filters will help to carry out the most optimized purchase decision.