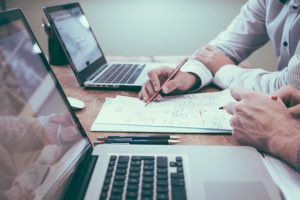 Online marketplaces have become increasingly popular over the years because of the convenience and simplification they bring to the buying and selling. Web-based platforms bring buyers and suppliers together to discover, collaborate, purchase and partner more efficiently.
Furthermore, specialized online marketplaces combine the ease and efficiency of the web with the power of search and directories with tailored industry-specific categories.
Used machinery online marketplaces enable sellers to effectively market towards potential buyers with specific needs, while also simplifying the search process for the buyer. Once a connection is made, buyer and seller are able to collaborate, discuss and exchange information.
Instead of having to locate new suppliers and go through the traditional RFQ award processes, the business deal happens within a singular online platform. Buying machinery online naturally saves the financial and time cost. Online platforms are an excellent way to cultivate new business relationships.
Benefits of Buying Machinery Online
1. Easier to compare market prices
The first step when buying anything is to research exactly what you are looking for. Next, determine what the average market price of the product is. However, contacting numerous sellers/re-sellers and developing comparative spreadsheets for cost and specifications analysis can be extremely time consuming and inefficient. Using an online marketplace makes it easy to ensure that you are getting the right machinery at a fair price. The wide selection of machines these sites offer and the detailed descriptions sellers include simplifying the whole process.
Because of the effectiveness of online marketplaces, the majority of the top brands in machinery manufacturing prefer to use these platforms. Consequently, these websites have access to an extensive network of leading suppliers and manufacturers. Which means customers are allowed to explore and purchase from a wide range of both local and international brands.
New machinery is often an expensive investment, which is why many machinery online marketplaces offer used, refurbished and demo machinery at more affordable prices. One of the advantages of buying second-hand machinery online is that online marketplaces make sure to verify sellers so that buying can feel confident that they are getting what they paid for.
Managing multiple sellers means dealing with varying seller requirements, delivery schedules, shipping costs and other financial transactions. Dealing with so many variables at once can be tiresome and time-consuming. Online marketplaces provide the peace of mind that comes with having to deal with only one supplier who handles all of these requirements on your behalf.
Without a doubt, online marketplaces are great for buying machinery. At the same time, they are also an excellent platform for these same buyers to sell the machines no longer in use. This enables customers to get a return on their investments so that they can upgrade their machinery and revamp their production process.
Buying Online Safely
While most online marketplaces do vet the sellers that use their website in order to protect customers, there are fraudulent websites that use photos and descriptions stolen from an authentic listing in an attempt to deceive buyers. Being aware of common scam techniques can ensure that you are purchasing machinery from a reputable supplier.
Tips to Avoid Seller Scams:
Here are a few factors that could indicate a fraudulent seller, according to Equipment TraderOnline.
Seller requests a deposit or payment via wire-transfer
The price is too low to be realistic
The supplier offers free shipping
Selling side insists upon using an unknown escrow service
Seller communicates only via email, not phone
Documentation providing machine ownership is not available
No unique identification of the product can be provided
When buying online, always try to look for websites that have a secure escrow process. Be sure to ask for a receipt, invoice or other documentation naming you or your company as the owner of the equipment.
Thank you for reading our articles, stay informed about the industrial world and Exapro by following us on Exapro Hub, Facebook, Twitter and LinkedIn.