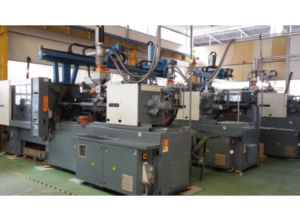 Transporting an injection moulding machine requires careful planning, including making sure your company has all of the information, tools, and equipment needed to load and ship the machine. To ensure that this process goes as smoothly as possible, you must make sure you are familiar with the intricacies that accompany handling, transporting and transferring this type of machine, so that you can avoid any setbacks associated with this process.
This consists of, but is not limited to, making sure that the injection moulding machine is packed correctly so that it arrives at its destination undamaged, labelled appropriately so that it reaches the correct destination, documented and insured to meet any legal requirements (both domestic and international, if needed), and insured against any kind of damage, loss, or delay.
Options for shipping injection moulding machines
Choosing the right heavy equipment transporter is vital to ensuring your injection moulding machine arrives safe and sound. Here are some of the most common options for shipping large machinery:
Flatbeds
Flatbed hauling is the most common method of shipping heavy equipment. For most machinery, including injection moulding machines, a flatbed should be sufficient for transportation. Flatbeds are convenient because they are available in a variety of sizes and capacities, carrying up to 24 tons. They also simplify the loading and unloading process.
Towing
If you're only moving your injection moulding machine a short distance, it might be possible to tow your machine. There are many towing companies that have tow trucks to accommodate the size of your machine.
Special trailers
If you need to move a particularly large machine, or perhaps you are transporting more than one, you may want to consider a special trailer. Special trailers are often used for over-sized or very heavy equipment. If you choose this option, however, make sure you obtain any special permits that are likely to be necessary.
Considering size and location
Expectedly, the two main parameters that you must consider when shipping an injection moulding machine (or any other piece of heavy machinery) is the size of your machine, and the distance you need it to be transported. Accurately measuring your machine's dimensions and weight is an important step in helping you determine what kind of hauling equipment will be necessary. As mentioned above, flatbed hauling is the most common type of heavy machinery transport, though some machines may have special parameters, which require the use of special trailers.
Shipping overseas
Shipping an injection moulding machine overseas can be more complicated because you may not be familiar with international shipping regulations and restrictions, including import and export restrictions, as well as various taxes and duties that may apply. Getting information from your country's customs, international trade, and commerce or import/export department is a good idea in this case, or working with a reliable and experienced customs broker.
In general, ocean freights are the most reliable and affordable method for shipping heavy machinery across continents. Additionally, ocean freights have an exceptionally large capacity, meaning they can fulfill large orders easily. For an injection moulding machine, standard container shipping is a sufficient way to transport the machine, while also cutting costs.
Loading and unloading
Shipping your heavy machinery safely is perhaps the most important step in the shipping process. Here are some things to consider before and during loading to help reduce violations and mitigate any risk associated with transporting heavy machinery.
Before loading
Double check that your machine's weight/dimensions can be accommodated by your chosen method of transport
Determine if permits will be required
Determine where the equipment will be placed on the transport vehicle
Inspect machine's securement points for damage
Remove excessive aggregate, dirt, debris, or other materials from machine and transport vehicle
During loading
When possible, place machinery against a structure to help prevent forward movement
Ensure that machine is securely fastened with appropriate tie down devices, which won't become loose, unfastened, or open while the vehicle is in transit – use edge protection to prevent damage to tie downs
The chain is often the preferred tie down for heavy machinery
Take measures to protect your machine from the environment and other things that could damage it, such as corrosion – vacuum packing can be great for machines traveling by road or water by keeping out foreign substances and moisture
Dropping Off at Destination
When your machine reaches is the final destination, it is important that there is an open area at the drop-off point where it can be unloaded safely. Extra equipment may be needed for this step, including loading docks, ramps, or cranes.
Transporting an injection moulding machine is a very complex and extensive process, which is why many companies choose to work with vendors that provide "full service" packaging and shipping. This can help you avoid many of the risks associated with transporting this heavy machine.
Thank you for reading our articles, stay informed about the industrial world and Exapro by following us on Exapro Hub, Facebook, Twitter and LinkedIn.