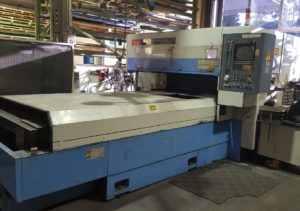 2D laser cutting technology by Mazak Optonics represents a wide range of various metal cutting solutions. Among Mazak laser cutting machines buyers can find both CO2 and fiber laser options.
All configurations are designed specifically to meet the operational needs of metal manufacturers. Fiber and CO2 laser configurations also include two pallet flying optics designed specifically for high-speed applications.
Hybrid machines, in return, provide excellent support for heavier plate cutting together with rugged performance.
2D Mazak Laser Technology
Mazak 2D laser cutting machines provide cost-effective manufacturing solution for large-volume production needs as well as smaller productions. To meet the needs of its end users is one of Mazak's corporate visions which the company is embodying in the development of each product.
Automation of production is another big focus for Mazak, 2D Mazak laser machines have the design that allows automating machine setup thanks to integrated intelligent features. Automation brings the opportunity to be less operator dependent and facilitate using more automated solutions for handling material.
3D Mazak Laser Technology
Traditional laser cutting technologies proved to be rather effective, however, the development of 3D laser-cutting technique has helped to reduce the processing time as opposed to traditional cutting methods. All forms and shapes can be laser-cut with the help of a rotary tube chuck feature.
Mazak laser cutting machines also posses 6 axes which allow producing structural shapes, tubes and formed parts. Bevel cutting of flat components is also possible thanks to the high performance of Mazak lasers providing more possibilities and greater flexibility to meet the production needs of all customers.
Tube and Pipe Cutting
Machine description
Mazak 3D Fabri Gear model 400 III is famous for an excelled range of laser-cut pipes, tubes or any other structural applications. 3D Fabri Gear machines are available with two types of resonators – 2.5kW or 4.0kW – which allows cutting a wide variety of metal pipes and tubes. Any shape – round, square, rectangular and triangular – is possible to laser-cut with Mazak 3D FABRI GEAR 400 III.
Speaking of shapes and forms of the end product, Mazak laser cutting machine can process C-channel, I and H beams, angle iron and even additional uneven shapes from stainless steel. Mazak 3D Fabri Gear is simply ideal for many industrial fields and many means of applications.
3D Fabri Gear is featuring 6-axis laser, exceptional for its great power and highest precision. Thanks to this powerful laser, Fabri Gear 400 III is able to handle heavier and thicker materials, and also longer and larger workpieces compared to similar laser cutting machines.
Another great benefit of Mazak laser cutting machines is the improved processing speed and higher tolerance which is especially appreciated during tapping or drilling.
Advantages of 3D Fabri Gear machines
6-Axis powerful and high precision laser with automated load/unload functions
Ability to cut a large range of pipes and tubes. 3D FABRI GEAR 400 III is capable of cutting any tube or pipe, either square, round, triangular or rectangular.
Ability to completely process C-channel, angle iron, I and H-beams.
6-axis laser brings in the opportunity to cut sheet metal at any desired angle achieving the highest accuracy and precision for the end product. Besides, all operations can be performed as part of a single cycle program.
Minimum labor input is required thanks to computer-controlled loading, work holding, and unloading. Ideal for small to high volume production.
Thank you for reading our articles, stay informed about the industrial world and Exapro by following us on Exapro Hub, Facebook, Twitter and LinkedIn.