Since the 1980 founding of MHM in Austria, the business has come a long way. As a small enterprise, it has expanded into a multi-national corporation renowned for its cutting-edge screen printing equipment and first-rate client care.
MHM's commitment to both innovation and quality is the foundation of its success. In an effort to continuously improve its products and offers, the company has made sizable investments in R&D. MHM machines are now renowned for their accuracy, sturdiness, and speed as a result of this dedication to innovation.

MHM's dedication to customer service is another important aspect of its success. Customers are treated with respect and professionalism from the moment they contact the business, and knowledgeable staff is always on hand to provide advice and answer questions. A large number of businesses rely on MHM's machines for their regular operations, thanks to the company's high standard of customer service.
Additionally, MHM stands out due to its readiness to change and progress. Whether it be through the creation of brand-new products or the enhancement of current ones, the business is constantly seeking out fresh approaches to satisfy the needs of its clients. This commitment to ongoing development has allowed MHM to stay competitive and hold its position as the industry leader in screen printing machines.
What is a screen printing machine?
Basically, a screen printing machine is a specific type of equipment used to apply ink or other materials to a surface using a mesh stencil. It is regularly used to print designs, patterns, or logos on a variety of materials, such as fabrics, paper, plastic, glass, and more.
Several industries, including fashion and garments, advertising material, signage, the automobile and electronics sectors, as well as sports equipment, use screen printing machines. For instance, screen printing is used in the fashion sector to print images on t-shirts, hoodies, and other clothing. Screen printing is used in the promotional products business to imprint logos on objects like pens, mugs, and keychains. Screen printing is used in the automotive industry to put graphics on dashboards and gauges.
The adaptability of screen printing equipment is one of its main benefits. They are excellent for many applications since they may be applied to a variety of materials. Moreover, screen printing creates vibrant, long-lasting prints of the highest quality.
Efficiency and quality combined: How the MHM IQ Oval is revolutionising the screen printing industry
The MHM IQ Oval is a screen printing device made primarily for printing on textiles like t-shirts, hoodies, and other fashion products. Printing businesses and manufacturers in the fashion and promotional products sectors frequently choose it.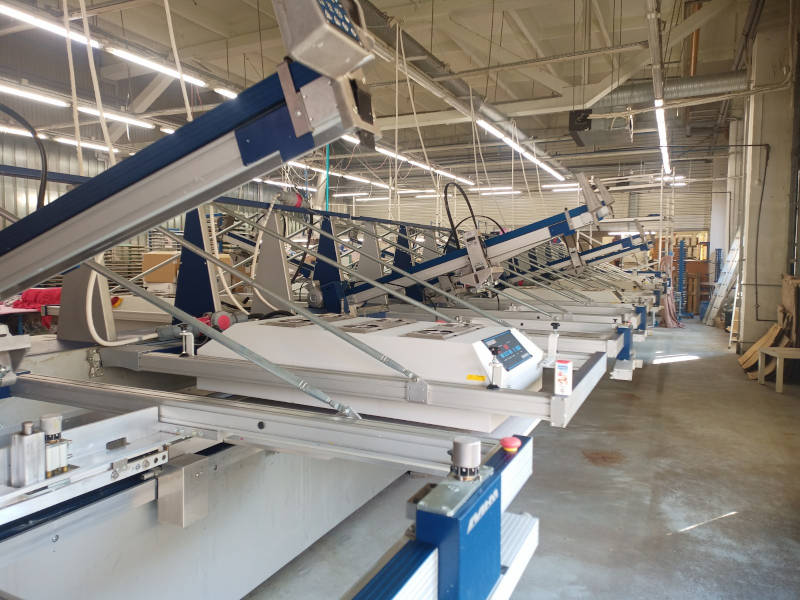 One of the key characteristics of the IQ Oval is its oval form, which makes production more efficient by lowering the need for manual labour and speeding up printing. Together with other cutting-edge features, the machine has touch screen controls and automatic registration, which serve to increase accuracy and decrease errors.
Adaptability is also another benefit of the IQ Oval. As previously mentioned, it is possible to use it to print on a wide range of materials, including cotton, polyester, and mixes, as well as on apparel in a variety of sizes and forms. Because of its versatility, it is a great option for companies that need to print a wide range of designs and logos.
The IQ Oval has a user-friendly interface that makes it simple to use and maintain, as well as high-quality printing that is long-lasting and robust.
Some of the technical features of the MHM IQ Oval include (please note that the information below was found online and should be confirmed with the manufacturer):
Oval design for increased efficiency and speed
Modular print heads for easy setup and adjustment
AC servo-driven indexing system for precise alignment
Central off-contact adjustment for consistent print quality
Integrated flash cure unit for faster production speeds
Automatic squeegee pressure adjustment for optimal ink control
User-friendly touch screen interface for easy operation
Compatibility with a wide range of substrates and ink types
Overall, the IQ Oval is a strong and adaptable screen printing device that provides businesses of all sizes with high-quality and affordable printing solutions. It's a great investment for anyone looking to increase their product range or develop their printing business thanks to its cutting-edge technology and creative design.
In case you are looking for a second-hand machinery solution, we have the following equipment available immediately here. After clicking on the link, you will be able to take a look at a video and pictures of the machine. Do not hesitate to contact us, and we will shortly get back to you