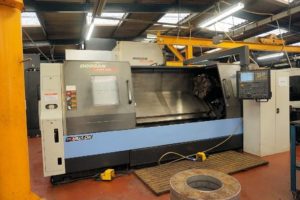 Doosan machine tools is a global enterprise occupying the leading position in the metalworking machinery market ever since its establishment in 1976. Over the past decades, Doosan has been pioneering the machine tools industry sector with top quality products. Mainly specializing in turning centers and machining centers, Doosan has achieved excellent sales results over time making over 1 trillion in sales in 2007.
Doosan's mission is to become a reliable partner for each and every customer and stakeholder. Company's mission has been successfully implemented through the global network of subsidiaries in all parts of the world: North and South America, Asia, Europe and even Oceania.
Doosan machine tools range
The product range of Doosan machine tools includes a full package: from CNC boring mills and CNC turning centers to vertical and horizontal machining centers as well as various mills types (bridge mills, gantry mills). Doosan has developed solutions for high-volume production needs. For this purpose, there is a variety of Doosan multi-pallet systems which can be simply integrated with horizontal machining centers and allow to perform operations unattended ensuring higher production levels.
Doosan turning centers
Turning centers belong to the basic product range of machine tools by Doosan. All turning centers acquire a CNC technology including twin turret turning centers, milling centers, and cnc lathes. In terms of product series, there is a wide range of Doosan turning centers divided into 2 main series: Lynx and Puma.
Lynx turning centers have been designed to provide a long-term precision of production and high level of accuracy. Lynx series machines are specializing in superior quality of surface finishing which is crucial for certain industry sectors. Non-cutting time is minimized thanks to ultra-fast rapid traverse rates and fast 0.15-second turret indexing. Turning centers from Lynx series include a high-speed spindle, curvic coupling, and electric torque limiters.
Puma series has a more complex structure of products since it contains a few model ranges: Puma 2100, Puma 2600, Puma 3100, Puma GT2100, Puma 400, Puma 5100 and Puma TT. To help buyers differentiate between the models, Doosan has specified what kind of production is the model designed for. For example, Puma 2100 turning centers specialize in heavy and interrupted cutting, providing users with milling, drilling and tapping capabilities. While Puma 400 turning centers have a large bar capacity and isolated 2-speed gearbox, another model Puma TT belongs to a category of multi-task milling centers for high-volume production.
Doosan machining centers
To support the model range of turning centers, Doosan machining centers provide both high-speed and heavy-duty industrial solutions. Horizontal, vertical and 5 axis machining centers.
Horizontal machining centers
Speaking of Doosan horizontal machining centers, the product range is divided into a number of series: NHM, HM, HC and HP series. Advanced technological features have been implemented to allow the highest level of production precision. Horizontal machining centers by Doosan assure powerful and accurate cutting thanks to the inverted T-shape axis of the guideway bed. Due to a highly rigid structure, machining centers are capable of machining all types of metal, from general to hard-to-cut metals.
Vertical machining centers
Doosan vertical machining centers guarantee all users excellent results while cutting down production costs. Most of the vertical machining centers by Doosan have a highly rigid C-type structure allowing to machine a variety of metal types. 5 axis machining centers provide an optimized solution for advanced manufacturing fields. Choosing between a number of series – DNM, FM, VC – helps clients to balance the cost/quality input and provide both-side satisfaction to end users.
Thank you for reading our articles, stay informed about the industrial world and Exapro by following us on Exapro Hub, Facebook, Twitter and LinkedIn.