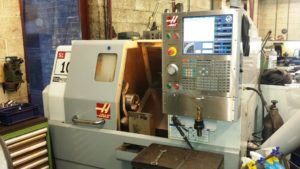 With the appearance of electronic numerical control systems, the machine tool industry has reached a new level of output. Such changes entailed the creation of a whole class of machine tools with an uncomplicated abbreviation CNC (numerical program control).
What is the main difference between the modern CNC lathe and its NC class counterpart? One has only to take a look at such a machine and it becomes clear that from his predecessor he inherited only the title.
Of course, it should not be exaggerated, because the main nodes of the CNC lathe remained the same: the same frame, spindle, and support. That's just running all this software, of course, not without the participation of a human operator. The operator sets the necessary parameters, and the electronics act as an obedient performer.
Main features of metalworking with CNC Lathes
There are several types of CNC machines. Depending on the location of the spindle, the machines can be vertical and horizontal. If we consider different types of work performed, then all lathes can be divided into the following categories: cartridge, center, carousel, and cartridge-center. Let's consider the main types of work on each of the lathes presented above.
Center CNC Lathes
It should be noted that the functionality of such machines is somewhat limited. They are designed for cutting different threads on a workpiece with a diameter of up to 380 mm. Such machines are used for processing the outer surface of the shafts. The share of the output of this type of turning equipment is 10% of the total number of CNC machine tools produced.
Horizontal turret lathes
Horizontal turret lathes for metal are highly flexible turning centers. Such machines have the ability to combine upper and lower turrets with spindles which acquires production process flexibility. Versatile tool holders allow performing multiple metal cutting/machining operations. With CNC feature there is no need for the operator to install/uninstall tools during the working cycle.
Vertical turret lathes
Vertical turret lathe or VTL are similar to horizontal lathes in terms of essential design. However, VTLs are upended which allows the lathe faceplate to act as a horizontal rotating table. Meanwhile, the headstock sits on the floor providing a useful feature for handling non-standard workpieces: too heavy, too short. Vertical lathes are also called boring mills equipped with a turret.
CNC lathes for metal manufacturing
Manufacture of this type of metalworking equipment is carried out with strict control of all production cycles. Such highly precise machines have proved themselves from the very best side. The high performance of such machines is achieved due to various design solutions.
In particular, the complete absence of backlash and clearance joints, the presence of feedback indicators, increased resistance to vibration, preheating individual parts of the machine before work, the use of high-strength and wear-resistant materials.
Main manufacturers of CNC Lathe
CNC turning equipment has been widely used among different metalworking industries all over the world. The presence of established relationships with suppliers of products has provided us with ample opportunities to choose the best solutions for this type of equipment.
Among the best-known manufacturers of CNC lathe equipment are such companies as Mazak, Emco, Trumpf, Haas, Voortman etc. All these brands buyers can find in Exapro online catalog of metalworking equipment.
Thank you for reading our articles, stay informed about the industrial world and Exapro by following us on Exapro Hub, Facebook, Twitter and LinkedIn.