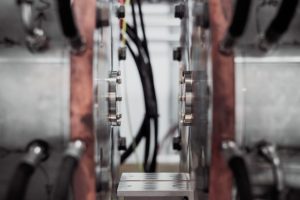 Industrial sector represents the key driving force for productivity and innovation. According to the latest statistics reports, industrial production accounts for 16% of European GDP.
European Union has further developed The Factories of the Future (FoF) initiative to follow the goal to customize production processes in a more eco-friendly way. The European FoF initiative has set specific objectives over the seven-year period 2014-2020.
Those objectives include introducing high-tech manufacturing processes, as well as automated systems and manufacturing equipment. Evidently, automation of production systems plays the key role in the Factory of the Future development. Automation is the main driving force to make greener, customer-focused manufacturing part of our everyday reality.
Automation of production systems today
Over the past decades, significant progress has been made in the field of automation. Launch and development of nanotechnology have given way to complex adaptive industrial systems and multi-processing. Nanotech sensors which are tiny in size and energy saving can measure any desirable … during the manufacturing process.
The global Internet network made M2M (machine to machine) networking possible. Today, more and more factories are heading towards complete automation of productions systems. Automated processes in the industrial sector are highly configurable and flexible. The factory of the past used to look like a large, centralized production plant.
The factory of the future is flexible, automated, easily manageable and movable depending on the location of resources or customers. The benefits of industrial automation are undeniable:
Industrial automation benefits
allows optimizing production processes, using less natural resources and producing less waste
increases industrial investment in equipment and foster innovation
helps to address new consumer markets and demands effectively, introducing customized products
creates attractive and safe workplaces
Automation trends
Virtualization
Over the past decades, PC has become more powerful which allowed utilizing its resources in industrial applications. Virtualization exactly represents the means of how these resources are utilized. To be more specific, a feature of virtualization allows multiple instances of operating systems to run on a single PC.
A typical industrial automation application is able to consolidate numerous server-level functions on fewer PCs. Such functions include SCADA, I/O, and database. Since fewer PCs are involved in the production process, fewer can be purchased, which means saving money on service and maintenance as well as purchase cost.
Virtualization also increases reliability as the switch from a failed to an operating PC can be instant.
Robots
The robot revolution has undergone an incredible development. This trend from the industrial world is slowly but surely making its way into the commercial world. Back in the days, industrial robots were designed to perform one simple activity over and over again.
Nowadays, an industrial robot is a highly intellectual machine driven by special software. Robots can be programmed to perform a variety of tasks according to the current demand. This new feature suits the world of flexible manufacturing and the factories of the future. Most importantly, robots are able to safely collaborate with other machines as well as humans.
Multi-touch
Multi-touch used to be a trend which started in a commercial world and then successfully migrated into an industrial environment. With the introduction of touchscreen smartphones and tablets to end users technology simply couldn't go back to the use of single-touch devices.
Multi-touch feature integrated into industrial machines makes the operation of industrial equipment more straightforward and user-friendly. Multi-touch technology has been incorporated into most of the newest machines and continues to be a growing trend. Users are capable to take the advantage of features such as zoom, swipe or expand since many SCADA and PC-based HMI software programs have native multi-touch support.
Mobile apps
Today, most of the users own a touchscreen tablet or smartphone. Needless to say, mobile apps have rapidly taken over the online world providing quick access to all kinds of data. In the field of industrial automation, apps serve as the quickest way to access plant operating information.
Employees can simply touch a button on the screen of their smartphone or tablet and get an overview of the industrial facility. Introducing mobile apps to the industrial sector has improved productivity and efficiency.
Online purchase and learning
The biggest trend nowadays is a switch from offline to online activity. A  growing number of people prefers to do their research and purchase products online. End users tend to find products through the Internet and to search for prices themselves instead of picking an item from a catalog.
The variety of products one can purchase online is tremendous: from ordering groceries to buying used machinery. The online users' experience is not only limited to research and purchase. More and more people each day discover the limitless world of information through online learning.
One employment for life has become a trend of the past. Currently, one person is capable of performing various job functions throughout the life. Quite often, instead of getting a second degree, an online course in a new field of knowledge is substantial. The volume of affordable online training materials has been continuously expanding and improving.
Thank you for reading our articles, stay informed about the industrial world and Exapro by following us on Exapro Hub, Facebook, Twitter and LinkedIn.