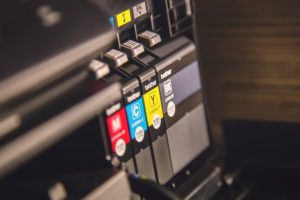 Unstoppable technological revolution is driving all industries forward, and printing industry is no exception. The major concern is how printed media is slowly but surely being replaced by digital means of communication. Yet, the battle is not over yet. Let's see how exactly did technology impact commercial printing industry and what are the latest printing industry trends 2017.
Top Printing Industry Trends 2017
In 2017-2018 commercial printers should be ready to address the following trends:
1. Internet of Things (IoT)
Cloud-based computing has established a strong presence across the industries. In terms of commercial printing, it means that the information is captured from the printer or another piece of printing equipment and then is sent to the cloud. The information is analyzed in the cloud and sent to the end user through the dashboard. Such a work model will provide a desired insight for printing business owners and help to adjust their business cost models.
From vendors' point of view, cloud technologies and the IoT bring a more structured feedback and allow to prevent critical failures of equipment. New services can be developed, such as client notification about maintenance or even predictive scheduled maintenance.
2. App-based software
Just like in the factory automation, one of the main trends in printing industry is so-called "appification". Mobile apps simplify things for users not only on a private scale. Implementing apps into daily business operation has the potential of a user-friendly flexible approach. The main benefit of "appification" is without a doubt its potential for base level of workflow integration.
3. 3D visualization
Scaling of visualization software allows to expand opportunities when it comes to 3D objects, such as packaging. From the clients perspective, this is a huge leap forward, since consumers get a 360-degree view of the product thanks to 3D technology. Being able to see the product from all angles, increases the comfort of buying products online. New 3D visualization techniques also enable high-value printing, such as embossing or foil, since the texture can be visualized on the screen.
4. Online print platforms
How do online printing platforms work? in brief, they connect customers looking for print products to sellers/print shops in various locations. Over the past years, these platforms have been scaling and there impact will soon be known. Online platforms allow to automate the job intake and simplify the printing process for end users as well as printing providers.
5. Web-to-workflow
Workflow is the backside of online sales in commercial printing industry. Workflow automation leads to increasing efficiency of all processes. Web-to-print technology used to be a great tool, however, on many occasions it ignores many crucial steps between the order placement and order fulfillment. Those printers who have adopted web-to-workflow approach have been able to improve the productivity and increase efficiency in order to handle higher volumes of printing jobs at a time. In a response to this new trend, software developers have launched web-to-workflow apps.
6. Digital publishing
Digital publishing is not completely new, it has been widely spread in the book and magazine industry. Thanks to technological revolution, nowadays not just large brands can afford digital publishing. Digitalizing your product helps to reach out to a much broader audience. It simply makes sense to make your printing production available in digital formats, so that PC, tablet or smartphone users could enjoy it.
Although there is natural concern among PSPs about digital publishing competing with their printing business, McGrew says this is not actually the case. "Among the PSPs we've seen who have developed the ability to offer both in print and via mobile app or online, those companies are seen by their customers as 360-degree companies," she says. "The tools are now available to make it happen almost seamlessly, they've only gotten better. It's not an area that even small and midsized PSPs should be afraid of."
Digital publishing does take some education, however, and not all legacy files will work well in this environment. "These systems work well for well-designed HTML 5, they like InDesign, many like Quark and Corel," says McGrew. "They kind of like PDF, but they don't always return good results. So do some investigation if you are looking in this direction."
McAbee concludes that you should expect a different kind of costing model for the software, as well. "They are more subscription or transaction based rather than buying it outright as a license," he says.
From appification to 3D visualization, these are significant trends set to transform how PSPs and their customers interact. While they represent a fundamental shift in how printers manage their businesses, they also offer the opportunity to transform their business operations and profitability models in a really positive way by streamlining and adding flexibility and value at many levels. Sometimes change is a good thing.