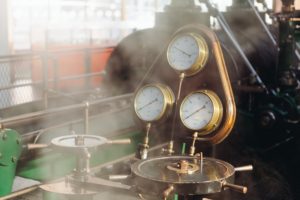 Machinery helps us with complex works that we won't be able to perform without it.
But these machines depend on the people who handle them. They have the knowledge and the qualities required to make sure everything is working well for the company they're working for.
Knowing the work of a machine operator will help you respect both the machines and the professionals who work with them.
Machine Operator Work Description
In general, a machinery operator works with some equipment used in various sectors of the industry such as pharmacy, plastic, and food.
If we want to sum up their work in 3 verbs, it would be: they install, maintain an operate machinery.
But their role goes beyond setting up machines to start the production cycle or controlling/adjusting the machine settings.
They are the key to ensure the interminable and efficient running of production in a company.
One of their main goals is to ensure that production procedures will be carried on smoothly to maximize efficiency and profits.
They assist with the installation of their equipment, help maintain it, and can be assisted with computer operated equipment or with mechanical equipment.
To best ensure its role as a machine operator, a strong knowledge of the machine is necessary but they also must be aware of the security risks in an emergency.
Indeed, if a problem arises, the operator must be able to react quickly thanks to analysis capabilities and come out with a solution.
Main Functions of a Machine Operator
Handling this type of machinery is not about a little common sense and pressing a couple of buttons.
The accuracy and security are two of the main things to consider when hiring the best machinery operator.
For instance, the person must:
Check the equipment and make sure they are in good condition before using them. This includes checking that the due maintenance has been carried out correctly
Assist in the installation, maintenance, and repair of machinery
Operate tools in order to aid in the manufacturing process
Perform periodic checks on equipment and solve problems as detected
Work with others in order to ensure that equipment is in proper working order
Observe and follow company safety rules and regulations
Inspect parts with precision and measuring tools
Test operation of machines periodically
Fix issues that might occur during the shift
Keep records of approved and defective units or final products
What Is the Profile of a Good Machine Operator?
As we've seen, there are many functions of a machine operator. And to carry them out it's not enough to just be able to press buttons.
People who are going to work in this field need a high dose of responsibility.
They must be methodical people capable of reaching and maintaining high states of concentration. They must attend to detail and have a great analytical capacity.
In addition, they must go through periods of initial training but also recycling. To make sure that they know the machinery they handle, but also that they keep abreast of their updates.
Thank you for reading our articles, stay informed about the industrial world and Exapro by following us on Exapro Hub, Facebook, Twitter, and LinkedIn.