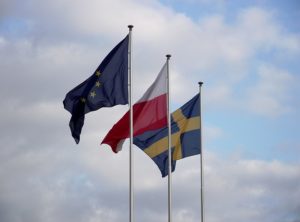 I joined Exapro more than 5 years ago, back in September 2012. This seems to me like a century ago now. Looking back at that time makes me realize how far we have gone forward since then. We occupied just ¼ f the office space that we have now, we were equipped with much fewer tools than we have at the moment and the ones we had were of far worse quality, to tell the truth. The market that I took over was over 4000 machines located in Poland and Scandinavia. I owe the Scandinavian part to Izabella, the former agent working on this market who happened to speak Swedish. From then on I started to forge ahead…
Used machinery market trends
Later on, when the split of the UK market took place part of it has been incorporated into my market Pharma, Packaging, Food. As the market grew bigger, generating more and more traffic, and myself taking over new responsibilities in the company I could not take care of it in the most effective way anymore. This is why in summer 2016 the decision has been made to split it and hire a second Polish speaker.
The market I am taking care of at the moment is Metal, Plastic, Packaging, Pharma, Wood in Poland and Scandinavia plus Packaging and Pharma in UK.
One of the characteristics of the market is the fact that it gets a fair share of the machines added by the end users. The reason for that is that in the last couple of years we managed to climb up to become the most visible marketplace for used machines in Poland. There are obviously still a few competitors but we have been consistently extending our share of the pie. The market is also quite strong internally, meaning Poland is not only the origin but also the main destination of the machines I sell.
Best selling product category
Throughout the time I work on the market the Machine tools have always been the best selling category, giving away the top spot just once, in 2016 to Printing. Plastic joins the two on the podium in the total sales for the last 5 years. The best selling subcategories are no surprises either: Injection moulding machines come first, followed by CNC lathes and Label printing machines are the top 3 of the 112 different sub-categories I managed to make a sale in.
Concerning the destinations of the sales they are widely similar to other markets, so I will not bother with it. I am still waiting for a sale to Australia & Oceania though, to complete a challenge of selling to all the continents (at least the ones with a population over 5000 people ;)!
Best machinery deals
I also hope to close a few more deals similar to the one I made in May last year when I sold a very nice flexo machine from a printing house in Poland to an end user in Bulgaria. Not only was it a substantial deal – the machine was sold for 400 000 €, but also a fast one. It took less than 2 weeks from the moment buyer inquired on the machine to invoicing the deal. It took some time afterward for the customer to collect the machine, as they had to arrange a couple of things including leasing, adjusting their site etc., but complications were close to none. Nice jackpot deal!
Thank you for reading our articles, stay informed about the industrial world and Exapro by following us on Exapro Hub, Facebook, Twitter and LinkedIn.