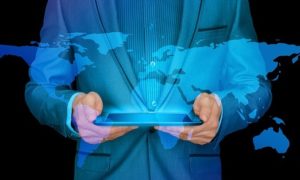 In today's world of trading platforms, any private individual or corporate entity can buy and sell goods or services online. Dealing with industrial machinery is, however, a more specific field, where potential buyers and sellers should possess a certain expertise.
Those who use industrial machines in the daily manufacturing process know that at some point a need arises to renew the technical equipment base. But what to do with former machinery units which are no longer needed? The answer is to trade them! Actually, you're one step away from becoming a machinery trader. Selling used machinery can be handled with grace allowing some professional help throughout the trading process.
Types of machinery traders
On Exapro – the global trading platform for used machinery – we differentiate two main types of machinery traders. Used machines can be offered for sale online by end users: either private individuals, small, medium or large companies. On the other side, there are re-sellers: private or corporate entities trading machinery professionally. However, even re-sellers can benefit from placing their offers online and offering machines on trading platforms. For example, Exapro has over 300'000 potential buyers visiting our website on a monthly basis – an audience one could never cover locally. As a general rule of thumb, any machinery buyer is a potential seller in the future. Naturally, after a certain period of using machinery, former buyers might need to sell used pieces of equipment. And here is when an online machinery marketplace comes forward.
Become machinery trader
What is required to become a global machinery trader? When using Exapro to sell your machines, the whole process breaks down to a few very simple steps. Thanks to our expert team of agents, we're able to ensure our clients support during the selling procedure. All is required of you is to list an offer on the website. And here goes the selling process broke down into details:
List your machine online. The first step is to place an offer on Exapro through interactive Selling form. In the form, sellers fill in necessary details about the machine. Manufacturer name, year of manufacture, country, and technical specification – all these details increase chances of selling the machine promptly and make an offer stand out among thousands of others.
Make sure to add photographs. Good quality pictures represent the most powerful tool to showcase the machine and present it well to potential buyers. Adding a machine video is a big bonus as well since buyers will be able to ensure the machine is operational and see how it actually works.
From the seller's side only these two very simple steps are required. And then the ball goes on Exapro's side.
How selling machines online work
After the machinery offer is listed, dedicated Exapro agent from our international team will take care of its visibility and promotion. In general, agents make sure designated offer is visible to the relevant target group of potential buyers.
Next part of agent's job is to handle clients requests. Most common questions are about machinery price, clarifying technical details and asking to arrange the inspection. All these and many other inquiries will be filtered by an agent in order to determine most serious and qualified buyers. From the seller's perspective, it means that you will only be in touch with serious partners who are actually interested to purchase your equipment.
Stay updated on the selling process
In the world of sales, it's crucial to stay up-to-date and well informed. All Exapro clients enjoy the undeniable benefits of their personal clients account. Account with user-friendly interface is a hub for all your offers where you can monitor buyers activity and check how many visits/inquiries your machines get. Following the statistics is really helpful in terms of providing immediate feedback and defining future strategy. For example, if the offer is not getting many visits, you might want to add more detailed pictures or even film your machine on video.
Trading machines – for free
The best part of becoming a machinery trader is the cost of selling machines with Exapro. Our service is completely free of charge, despite the workload we're taking care of. Clients can enjoy smooth stress-free trading online while taking care of their business. You can try our service today, add your machine for free.
Thank you for reading our articles, stay informed about the industrial world and Exapro by following us on Exapro Hub, Facebook, Twitter and LinkedIn.