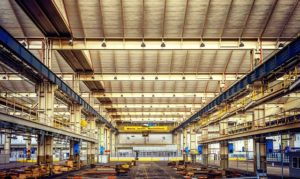 Just a few decades ago, chances of selling used machinery no longer needed in production were incredibly low. In the world without Internet connecting buyers and sellers from different continents, you could have traded second-hand equipment pretty much only within your region.
Fortunately, online marketplaces allow international traders to close deals across the oceans.
Nowadays, used machinery is offered and sold online just like any other commodity, product or service. However, online trading doesn't lend to the same rules as regular buying-selling transactions.
In order to sell used machinery online, it is important to be familiar with the rules of online trading. For all future sellers, we bring a guide on how to sell your used machinery successfully and get the highest price for your machine.
Why sell used machinery with Exapro
First things first, before you start trading let's confirm why you should use the Exapro online platform to sell used industrial machinery.
FREE. Best things in life are for free and Exapro trading platform is no exception. You can add a machine you no longer use and it will not cost you a dime. What's even better, you can create as many offers as you need and it still would be free! For easier management of your offers, enjoy the perks of Exapro client's account.
GLOBAL. Being an online catalog of used machinery, Exapro represents all benefits you can expect from an online marketplace. On Exapro you can find buyers from every part of the world: Asia, Europe, America, Africa and Australia. To be precise, over 300,000 potential buyers from all around the world visit our website every month.
SUPPORT. Each seller automatically gets a personal agent. How does that work and how Exapro agent can be helpful to you? Exapro agent assists you with your sale, contacts clients who can be interested in the purchase and supports you throughout the deal. This service is part of the outstanding Exapro experience and is also completely free of charge.
Create an offer
How to create an offer that would attract thousands of potential buyers? Speaking from our 10+ years experience of trading used machinery there is a certain science to presenting your product online. Exapro team members have followed and analyzed users behavior on Exapro website. Based on our research, we put together a list of crucial points your offer should not miss.
Name of the product: The first thing that attracts the buyer's attention is the name of your offer. The name usually contains the name of the machine and its type, e.g. Hitachi Seiki VM50 Machining center – vertical. Judging by the name, the potential buyer will know whether he/she should bother to look at the more detailed description of your offer.
Model, year, location: The model of the machine should once again be stated in a separate field. Same applies to the year of production and location of your machine. By this indicators, the buyer will determine if this particular machine is what he is looking for.
Category: On Exapro, we have a variety of product categories to choose from. The main ones are Electronics, Metal, Packaging, Pharmaceutical, Printing, Woodworking and Textile. Each category is divided into a number of subcategories to make the buyer's choice as straightforward as possible.
Price: When it comes to price, you can either choose to show or not show the price. In case you choose to hide the price, the potential buyer will see a "price on request" tag. Buyer can find out the price by using Contact seller feature.
Specifications: Dimensions and technical parameters of the piece of equipment you put up for sale.
Description: As a rule of thumb, product description as detailed as possible. Technical parameters.
Picture: Last but not least, pictures of the machine. Whether you are buying a new coffee maker or an industrial machine, as a customer you absolutely need to see the product pictures. Pictures justify the machine is real, the buyer can assume how big it is and what is the condition of the equipment.
In general, the more information you will fill in, the better. Your offer might even win Exaspot badge, which will attract even more potential buyers.
Become Exapro member
There are 2 ways of selling used machinery at Exapro. You can create a new offer simply by adding a product to our online catalog. Or you can register and enjoy the benefits of being an Exapro member. Both ways are free and both allow you to successfully sell your machine. Nevertheless, registration has some undeniable perks, like:
Easily managing a few offers at once. With Exapro client's account, you can add and edit new offers or delete them.
You can sign in to receive monthly updates on the newest machines in your category and adjust your newsletter preferences any time.
When inquiring about machines, you don't have to fill in your contact details every time, it will be done automatically.
Thank you for reading our articles, stay informed about the industrial world and Exapro by following us on Exapro Hub, Facebook, Twitter and LinkedIn.