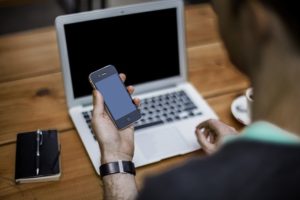 How to make your used machinery offer stand out among others on a global trading platform? High quality pictures of the machine surely guarantee certain success. In the age of online shopping, buyers don't have a choice but to trust the image of the product they see online. So the more detailed images you provide, the higher are your chances of selling.
However, majority of machinery offers now come with a few photographs attached. And what can possibly beat a high quality picture? A good quality video! It would be a shame not to use what the modern technology has to offer. And just like taking pictures with smartphones has become the latest trend, making quick videos with your phone can be equally as useful.
What do you need to make a machinery video
There aren't many necessary items to help you shoot the video of your machine. Actually, a smartphone with a camera is sufficient for the job. Also make certain the machine is well positioned and easily accessible. Machine needs to be within your reach so that you could capture it on film from all angles. If machine you're about to sell is still under power, this fact definitely represents a big advantage. On video, you can actually show how the machine is working (and that it's fully operational). Surely, either you or one of your colleagues owns a smartphone with a camera. Just grab it and start filming, it's so easy to increase your chances of selling the machine with a quality product video.
Process of making product video
Every modern smartphone is nowadays equipped with a decent quality camera. So to start the process of filming, find Camera device in your phone menu and switch the camera from picture mode to video mode.
Position camera horizontally for better video layout. When you hold camera vertically, you can't really fit much of the product into the frame. Horizontal (or landscape) camera layout is also a user friendly layout and it will assure the video will be displayed correctly on the web. To start recording video, press the rec button which is usually in the middle of the screen. To stop recording, press the same button. The video will be saved in Video folder on your phone.
Sound is an important part of every video. In case of a machine video, sound can be unnecessary if you just want to showcase your product. Make sure there is no background noise during the filming. Sound is also a powerful medium of delivering information about your product. While filming the machine, you can speak about its model, condition and other qualities buyers would appreciate knowing. If you'd like your voice to be recorded, make certain you speak into the microphone and don't accidentally cover it with your finger. Before shooting, double check where the microphone is positioned in your phone as position may vary accordingly to the brand.
Lighting. Another important aspect which needs to be taken into consideration. Poor lighting conditions can ruin the effect of the video completely. Best light is natural light or artificial lighting bright enough to demonstrate the product clearly. If the machine is located in a room with windows, schedule filming for the day time to get the most of the natural lighting coming from outside.
Advantages of making a video
Why you should choose video format instead of a standard photograph to promote your machine on Exapro?
First of all, every machine video is published in Exapro account on YouTube. YouTube is a very powerful and influential media channel that guarantees more leads for your machine from potential buyers.
No photograph can capture the fact that machine is under power like the video can. Thanks to filming machine video, you're able to show your machine in operation which is a huge advantage in the eyes of future buyers.
Seeing machine in action, on the other hand, helps building trust with potential buyers. While photographs can be somewhat untrustworthy, the video is showing the real side of things – your machine with all its strong and weak points.
If you already have a machinery video you would like to submit to your offer, please send it to [email protected]