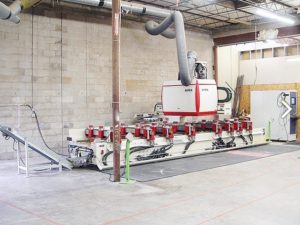 Most of our readers are already familiar with the term "machining center" when it comes to metalworking machines and machine tools. What is the function of machining center for woodworking industry? Wood machining centers are complex machines capable of performing a number of operations, such as sizing, milling, edge processing or drilling wood. The area of use of these machines includes furniture production and manufacturing of wooden components. Product design can be either simple or advanced, depending on the features of the machining center. Latest generation of wood cnc machining centers has in-built control technology, installed software and program drives to guarantee the widest possible range of production options. CNC woodworking machines are capable of efficient and precise wood machining which in the end turns into wooden furniture, door and window frames or composite material.
Main manufacturers of wood CNC machining centers
Homag
In Exapro online catalog buyers can find wood machining centers from the world's leading manufacturers in woodworking industry. Homag – main player in the field of woodworking machines production with headquarters in Germany – currently has a 30% share of the global woodworking machinery market. Homag's portfolio includes versatile solutions for wood machining such as cutting, drilling, surface finishing and edgebanding.
Wood CNC machining centers by Homag come in a variety of technical features and characteristics. Customers all around the world appreciate Homag BMG series of wood machining centers. BMG processing centers introduce flexible production technology with 3, 4, or 5 axis. Machining centers have compact dimensions and reduced installation area. Homag cnc machining centers are suitable for wooden furniture production (office furniture, kitchen furniture, solid wood furniture), as well as manufacturing of wooden doors and window frames. Besides, BMG wood processing machines provide free access from all 4 sides of the machine thanks to innovative bumper safety technology.
SCM
SCM is an Italian producer of innovative solutions in woodworking machinery sector. Since 1952, SCM has been providing the best technology for wood machining to industrial professionals all over the globe. Product range of wood cnc machining centers by SCM includes machining centers for routing, drilling, edgebanding and combinations of those. Each purpose/mission corresponds to a separate product series, which simplifies the machine choice for end users. Among the most well-known models are Routech series, Accord or Morbidelli series. What's more, SCM machining centers can be programmed to work with advanced materials.
IMA
German manufacturer of CNC wood machining centers IMA keeps an important role in global woodworking industry. IMA's woodworking solutions are divided between two product categories: throughfeed technology and stationary technology. Let's take a closer look at both wood machining technologies and try to differentiate between the two. Throughfeed technology machines are suitable for edge processing and edgebanding. IMA woodworking machines are capable of delivering the highest quality results while taking up minimum floor space. Novimat model working on a throughfeed technology is extremely easy to operate and very efficient at the same time. Its feed speed is reaching up to 20 m/min.
Stationary technology is mainly represented by BIMA model series. BIMA machines are wood machining centers equipped with CNC technology and a robot head. What are BIMA machining centers capable of? Apart from basic operations like milling and drilling, this machining centre is also capable of edge banding operations using glue or the Laser Edging process. As an end result, customer gets a complete product made by just one machine.