The world of machine tools is incredibly diverse and competitive. But amidst the crowd, certain names stand out, often due to their impeccable commitment to quality, innovation, and reliability. One such name is EMCO. In this post, we're going to take a closer look at a particular EMCO product – the Compact 5 CNC lathe – and explore why this manufacturer is so highly regarded.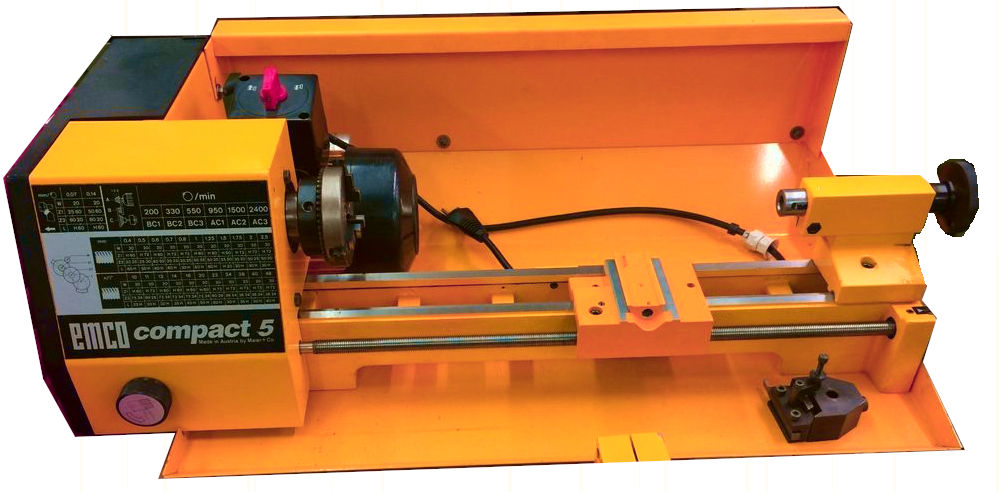 See all the specifications of the Emco Compact 5
A Brief History of EMCO
Founded in 1947, EMCO is an Austrian machine tool manufacturer that has grown from a small family business into a global player in the industrial sector. EMCO started its journey with the production of turning machines. However, the company quickly expanded its product line to include milling machines and machining centers, continually setting new standards in the industry.
EMCO's rise to success is largely attributed to its relentless focus on technological advancements, uncompromising quality standards, and user-centric approach. These characteristics have allowed the company to stay at the forefront of the industry and maintain a global presence that spans over 40 countries.
EMCO's Philosophy
EMCO follows a simple yet powerful philosophy: "Made in the Heart of Europe." This slogan encapsulates the company's commitment to its roots and its dedication to quality European engineering. Furthermore, the company's mission statement emphasizes its dedication to providing customers with innovative, reliable, and efficient machine tools that help them achieve their goals.
The Compact 5: A Reflection of EMCO's Excellence
The Compact 5 CNC lathe is a shining example of the EMCO philosophy in action. Despite its compact size, it brings the power and precision that you'd expect from a larger, industrial-grade machine. It's a testament to EMCO's ability to package power and precision into a small footprint, without sacrificing any of the features or capabilities that professionals demand.
Key Features of the Compact 5
The Compact 5 boasts a variety of features that make it a versatile and valuable tool in any workshop. Its turning diameter of 110mm, distance between centers of 225mm, and a spindle bore of 16mm cater to a wide range of machining tasks. Moreover, the machine's 3,000 RPM spindle speed and 0.45 kW motor power provide the speed and power that professional applications require.
Customization Options
One of the standout features of the Compact 5 is its range of customization options. Users can choose from options like a PC-based CNC control for easy programming, a milling attachment for added versatility, a tailstock for enhanced workpiece handling, and an integrated coolant system for increased tool longevity.
EMCO's reputation as a premier machine tool manufacturer is well-deserved. The Compact 5 CNC lathe epitomizes the company's commitment to quality, innovation, and versatility. Whether you're a hobbyist or a professional, this compact powerhouse is sure to exceed your expectations and provide reliable service for years to come. In an increasingly crowded market, EMCO's dedication to Austrian engineering excellence continues to set it apart.