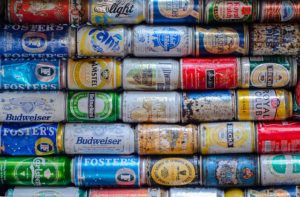 We're happy to present the second batch of main packaging industry events. To learn about the top events for the packaging industry in April, please click here.
A Pilot Batch of Paper Cups from Recycled Paper
Lenzing Papier has announced the acquisition of Smart Planet Technologies' ReCUP. Experimental production of cups with the use of second-hand coffee paper cups was started.
Executive Director of Smart Planet Will Lorenzi said: "It is very interesting that a small processing paper mill can use a paper cup to produce new paper products without any additional processing or infrastructure." Proof of this is reCUP – material usable in existing markets and with existing equipment.
New Eco-Friendly Packaging for Sandwiches
According to the British association Sandwich & Food-To-Go, more than 3,500,000,000 sandwiches are bought annually in British retail or in catering. President Coveris in the UK Gary Rehwinkel (Gary Rehwinkel) notes that the recycling of packaging in many cases is difficult. He urged consumers to give packaging for recycling wherever possible.
The British packaging manufacturer Coveris introduced a new recyclable packaging for the sandwich. The packaging solution consists of biodegradable plastic and cardboard, suitable for recycling. This package keeps the freshness of the product well. Packaging can be processed together with paper, but not later than 12 months after its manufacture.
Packaging System for Aseptic Filling in Pouches
Scholle IPN announced the launch of the Clean Pouch Aseptic System, a unique manufacturing system and aseptic filling of flexible packages – spiders. Such bags have an updated nose shape, a combined cap with a wide bonnet, convenient for gripping hands.
Clean Pouch Aseptic System will first be installed in WrightFoods (USA).
The new development director, Peter Messacar, notes: "The demand for spiders, from which liquids and pasty products can be directly consumed, is only increasing now. It is important that the packaging is suitable for use on the go, at the same time, it is necessary to ensure hygiene of all processes – from the manufacture of packaging and bottling to direct consumption. " The system provides production of up to 240 ready-made packages per minute.
Starbucks Invests in Creating an Eco-Friendly Glass
In 1992, Starbucks announced a new mission, Shared Planet, which is based on three commitments: to produce coffee with ethical standards, to take care of the environment, to participate actively in the lives of their farming communities. In 2010, the corporation established the world's first ceramic mugs from recycled materials.
In early 2014, Starbucks released reusable, fully recyclable glasses, for which you can get a discount when buying coffee. Currently, Starbucks paper glasses are produced using 10% recycled raw materials. They can be recycled on equipment of some organizations.
The company continues to develop projects aimed at increasing the share of processed raw materials in the manufacture of dishes. Starbucks said it will invest $ 10 million in cooperation with the organization Closed Loop Partners. The funds will be spent on the implementation of the project to develop a fully recyclable and decomposable glass.
The Starbucks plan, called the NextGenCup Challenge, is designed to accelerate the development process through grants for entrepreneurs working on environmentally friendly packaging solutions.
Mondi Has Introduced a Fully Recyclable Laminate for Ready-Made Pouches
Mondi has developed a laminate for finished packages, which is subject to complete recycling. The Barrier Pack Recyclable material is approved for use in existing industrial recycling systems. It is designed to reduce the amount of plastic waste while preserving the quality and functionality of traditional polymers.
In addition to supporting the economy with multi-turn production, the new material is environmentally friendly. A spokesman for Mondi, Carl Stonley, said: "In addition to the possibility of complete recycling, the new material has exceptional mechanical properties and is ideal for a range of packaging formats."
Thank you for reading our articles, stay informed about the industrial world and Exapro by following us on Exapro Hub, Facebook, Twitter, and LinkedIn.