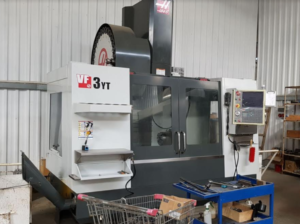 Haas is currently one of the biggest and also one of the youngest manufacturers in the western world. Their philosophy is "to manufacture economical and reliable machine tools". The company was established (and is still owned) by Gene Haas in 1983.
Gene Haas himself is an interesting figure, because apart from CNC machine tools, he's also known for having founded his own NASCAR team "Haas CNC Racing" (now known as Stewart-Haas Racing) and the F1 team, "Haas F1 team" and for his philanthropic activities – he's supporting financially and materially (by donating machines) the colleges, and for charitable actions by the Gene Haas Foundation, which is supporting hospices, scouts, missions, hospitals etc. He was also charged with criminal tax evasion.
Haas company overview
The company is based in California, in the USA. Most of its production is manufactured there, at the main one-million-square-foot facility. The production is specialized in the CNC machines, as vertical, horizontal and 5-axis machining centers, lathes and turning centers, rotary tables and indexers. Haas has entered the market with the very first fully automatic, programmable, collet indexer.
Company history
In 1987 they manufactured their first vertical machining center, VMC, capable of combining milling, drilling, tapping and boring. They started with distribution in Southern California, expanding into the USA, then to Canada, Europe and all over the world.Few years after the company has been established, they emerged to the overseas market; in 1988 to Denmark, then to Holland and Israel. In 1993 they manufactured private labelling products for Swiss Mikron, which opened for them other possibilities in Europe. In 2000 they chose Brussels, in Belgium, as their european headquarter, which became the main distributor for Europe. They've also setted up regional headquarters in Shanghai and Mumbai.
The business concept is interesting, using the Haas Factory Outlets (known and referred as HFOs). The HFOs are small, local business franchises and they provide sales, service and support for buyers. The technicians are certified once a year and trained throughout the year online, which provides the necessary support and possibility to react quickly, without excessive waiting for reaction from the headquarters.
Used Haas machines on Exapro
In Exapro online catalog end users and re-sellers can find a wide selection of used Haas machines. When it comes to the product categories, majority of Haas machines are under vertical machining centers or cnc lathes. Haas vertical machining centers can be purchased for a much more affordable price in case the machine is used, not brand new. Other popular models of Haas machines are 5 axis machining centers and CNC horizontal machining centers. Exapro customers are more than welcome to filter machines by year of production and technical characteristics to find a machine suitable for the budget.
Haas and machine tools
Machine tools category on Exapro has a broad selection of metalworking equipment with Haas machines being among the best selling ones. Every user will be able to fulfill the demand using Exapro online catalog for Haas machinery. In need of cnc lathe or 5 axis machining center, global trading platform for used machinery will be the best source for the search. In case you have Haas machine for sale, you can place an offer online or send us machine details and specification to info@exapro.com.