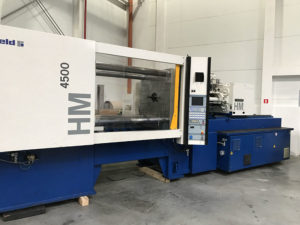 Battenfeld is currently an Austria-based company, a well-known injection moulding machines manufacturer. Battenfeld has been established in 1876 by Werner Battenfeld's grandfather, who owned a smithy and wrought metal workshop. Werner Battenfeld himself established the Battenfeld Injection Molding Technology company in 1948. Ever since, Battenfel injection moulding machines have been slowly but surely taking over the plastic machinery market.
Battenfeld company history
In 1954 a new production plant in Scherl/Meinerzhagen has been introduced and Battenfeld began its worldwide expansion by 1959, starting in the United Kingdom and the United States.
In 1962 a HMW plant in Kottingbrunn has been acquisitioned, by 2005 all the production will be concentrated in there.
In 1977 Schlömann Siemag AG (SMS) is taking over Battenfeld and in the same period of time Battenfeld introduces new compact machinery, in all clamping forces, including modular automation equipment. In 1991 manages to manufacture the world's largest injection molding machine with 8000 tonnes of clamping force.
On April 1st, 2008, Wittmann takes over Battenfeld at Kottingbrunn and all former and future subsidiaries are renamed to Wittmann Battenfeld.
Wittmann Battenfeld production line
With the acquisition of Wittmann, Battenfeld obtained new areas of production, as CNC robots, recycling or handling, due to Wittmann's previous acquisitions of companies as Colortronic, Nucon or CMB. Together they set up new subsidiaries in Europe and Asia and acquisition the former ones (such as Battenfeld Poland). As the two companies merged together, they are able to provide full solutions for productions – not only machines, but also equipment, cooling, packaging., too. In total Wittmann Battenfeld has 8 productions facilities and 33 branches in plastics market in the whole world.
Battenfeld injection moulding machine
Product range of injection moulding machines by Wittmann Battenfeld includes a few ranges and model lines. Each product line – such as toggle injection moulding machines, hydraulic machines, electric or vertical machines –  has a few models.
Toggle injection moulding machines by Battenfeld are popular for their fast-speed production. Toggle machines model line contains of EcoPower 55 – 300 t, EcoPower Xpress 400 – 500 t and MicroPower 5 – 15 t, where the numbers represent clamping force range. EcoPower units feature a direct drive of high efficiency and clamping unit with a clean design. EcoPower machines are extremely low-energy and cost efficient. On the other hand, MicroPower machines, also being energy efficient, are most suitable for production of small and micro plastic parts.
Next comes the range of servo-hydraulic injection moulding machines. Those machines are very flexible and can be easily adapted according to production requirements. Battenfeld hydraulic machines are using servo technology which allows to achieve the energy consumption level of electric machines. Model range consists of SmartPower and MacroPower series together with VM and CM injection moulding machine models.
Electric injection moulding machines are the most energy efficient also providing the lowest noise level. EcoPower model line by Battenfeld allows to reach the maximum clamping force of 300 t. The biggest advantages of electric imm are the speed, precision of injection and repeatable holding.
Vertical injection moulding machines represent models with in-built vertical clamping unit. In its turn, injection unit can be positioned either vertically or horizontally. In general, vertical imm have all the benefits of standard injection moulding machines, especially thanks to their modular build.
Battenfeld on Exapro
To search for Battenfeld injection moulding machine on Exapro, buyer can go directly to plastic category / injection moulding machines. Or use the search window to type in Battenfeld. Both ways will bring you to the list of all Battenfeld injection moulding machines currently available for sale on Exapro. Since Exapro is dealing with used machinery, used imm from Battenfeld will surprise potential buyers with a much lower unit price. Quality, however, remains on a decent level since the majority of machines are in good or excellent condition. Certain machines offered on Exapro are still under power so that the buyer can visit production site and see the machine in action. If you're interested in Battenfeld injection moulding machines, don't hesitate to send your request to the seller.