You're busy and don't have time to search for a second-hand equipment for the next few weeks? A lot of people give up and prefer to wait. What if this behavior makes you lost a huge opportunity to get the perfect machine you need for your company? Here are some solutions to help you. Tools exist and they are waiting for you. Once you know how to use them, you'll significantly reduce the time required for your search and increase the remaining time for what you're busy with.
1/ Know exactly what your business needs
First of all, you have to know what exactly the machine you're looking for and the basics features. A lot of buyers are wasting time on optional features they don't even need for their business. The new equipment has to match your business reality. Once you know it, go find the best online marketplace for selling used machinery. We recently put online a quick quiz to help our readers know if they should buy a new machine. Simple questions for a decisive answer. If you haven't done it yet, or even if you want to do it again, click on the link below.
2/ Sign up to email alerts for specific second-hand equipment
Did you know you could set up customized email alerts on Exapro? This helps you save a lot of time if a similar machine becomes available on the website. You can also manage your alerts in your personal dashboard. Thanks to this tool, you won't have to come back again to check if the machine you're looking for is available or not. To do so, just follow the 3 steps below.
1.  Find a second-hand equipment and click on the blue "bell" button on the right.
2. Enter all the information such as the parent category, the manufacturer, the model, the location, and the year of manufacture. You can also set up an expiration date for this alert. Don't forget to save your changes and be sure you've entered the right email address.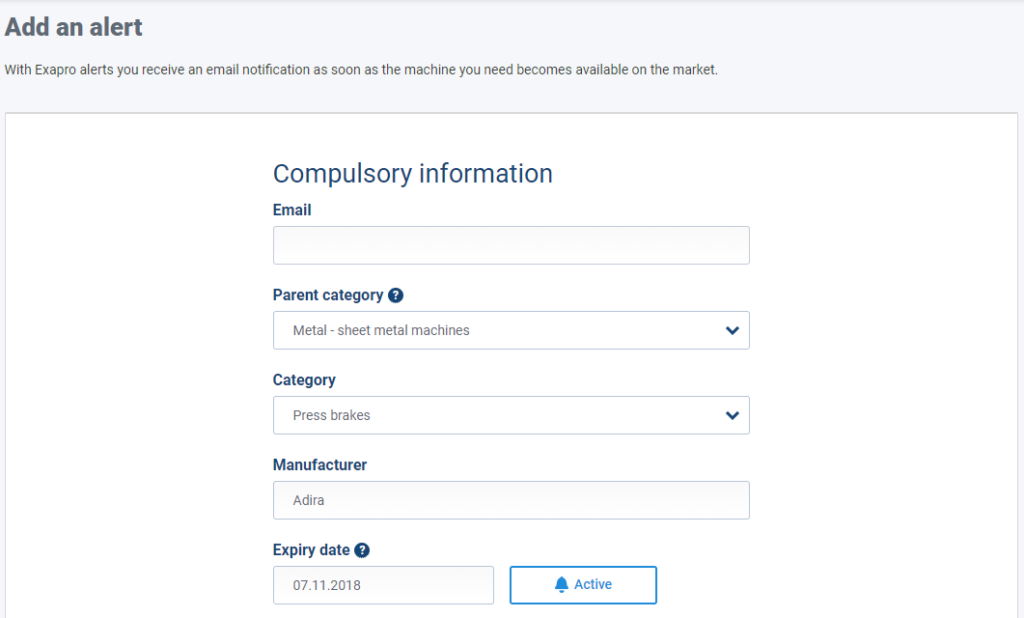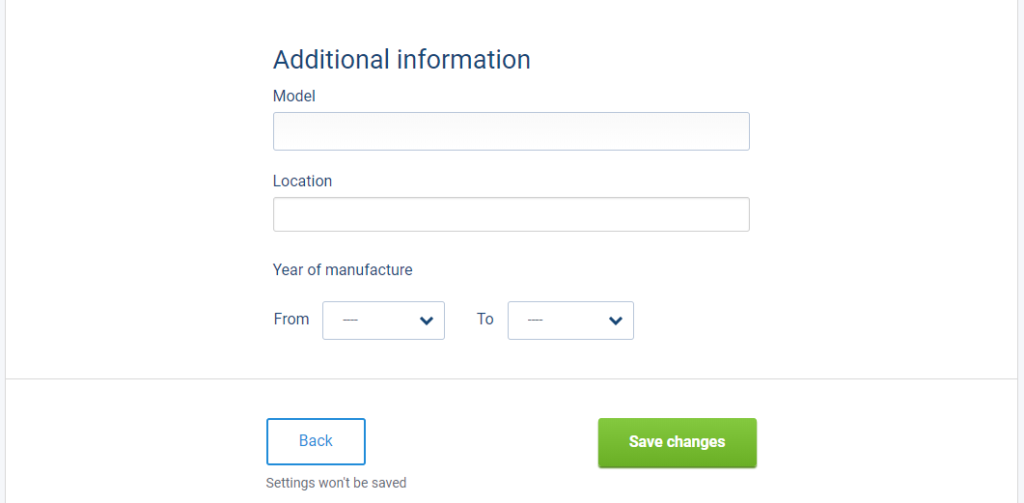 3/ Sign up to specific newsletters that match your interest
Get a specific newsletter regarding the category you're interested in and manage all of them in your Exapro's personal dashboard. Thanks to it, you will receive only offers from people who are selling a potential machine which is worth it to look at. If you want to get more details about it, click on the link below to know how to get your 20 best second-hand equipment and how to manage your newsletters' preferences.
4/ Ask specialists to do the job for you
To conclude, did you know you could ask someone to find a machine – a seller – for you? At Exapro, multilingual agents are only working with serious sellers from all over the world, and if a machine corresponds to your needs, they will be in touch with you as soon as possible. To do so, you have to show your interest in a machine in our catalog or to contact us via our online form. Exapro is available in 9 languages, so choose the website's language that suits you and one of our agents will contact you.
Thank you for reading our articles, stay informed about the industrial world and Exapro by following us on Exapro Hub, Facebook, Twitter and LinkedIn.