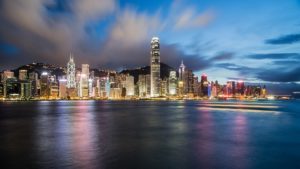 Hi everyone, I am Hana and I am taking care of Asian market in our company. I've been here for one year and a half so far. I started at Exapro as an assistant and now I'm in the position of Export Area Manager for the Asian market. It's hard to imagine originally I thought it would be just another part-time job during my studies 🙂 Exapro has given me such an incredible opportunity to get to know diverse cultures of Asia. 
No rules
The Asian market has one main characteristic: NO RULES. You just can't expect regular patterns or make any assumptions. The Asian region is so diverse, every country is original and can't be related to anything else. Besides, relationships between countries in Asia and the Middle East can get difficult sometimes. Certain countries will not cooperate with one another due to business relationships, because of legislative matters or because there is just some sort of hostility. As an Export manager for the Asian market, I need to be constantly aware of the geopolitical situation to keep my clients up to date. On a daily basis, I deal with quite tricky situations from the global trade point of view. Nevertheless, when – despite all possible obstacles – I finally find the way to make the deal happen, the feeling is priceless.
Asian market trends
Thanks to great cultural diversity, it's not easy to define common trends for Asian market of used machines. For instance, Lebanon market is full of food processing machines focus mostly on chocolate and candy machines. In Israel, you can find many types of really nice machines, from food processing to metal working machines. In Taiwan is winning metal-working machines of really good quality. Then there is one specific market of China. You can find many nice used machines but most of my partners from China are selling new units. They are as good as of any European brands and what's more, they come in really competitive prices. Buyers from Europe and the US should keep that in mind!
Best used machinery deals in Asia
I do have a good overview of the best deals on the market as I'm actually proud of each and every one of them. One of my best machinery deals was made in November 2017. I managed to find a really good partner in Israel, who happened to be a reseller of used dairy machines. I was happy to see, that offered machines were in really good condition and prices were also reasonable.
Israel – Malawi deal
I immediately added one of the machines to our regular product newsletter. The next day after the newsletter was sent, I got an inquiry from the buyer in Malawi. His inquiry was kind of urgent so I made a quick action and sent him all the information he required. After short negotiation we agreed on price and deal was almost done. The difficulty came at the moment when the buyer wanted to make the payment. He decided to send it from his branch in Dubai. Payment was rejected due to difficult relationships between Israel and UAE. Then the buyer tried to make the payment from his branch in Hong Kong. Unfortunately, that was rejected once again. I and my partner from Israel, we were literally praying for not canceling the whole deal completely from the buyer side. Finally, the payment was executed directly from Malawi, this small country in Africa saved us. All of us experienced a huge relief.
Future goals
Regarding my goals for the future? As you can see from the above, the Asian market is challenging and exciting to work on. Although it requires some extra effort from me, I am not a person who would give up easily. I can see a great potential of the market and suspect many successful deals to happen in the nearest future. Sure, it might take a little bit more time and a great deal of work, yet in the end, I will enjoy the sweet fruits from the used machinery market of Asia. 
Thank you for reading our articles, stay informed about the industrial world and Exapro by following us on Exapro Hub, Facebook, Twitter and LinkedIn.