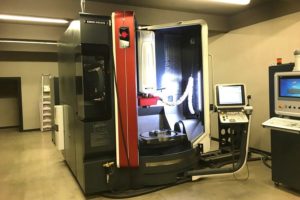 DMG Mori, the global player in milling and grinding industrial machinery, comes with an innovation for the mould making sector. Introducing Lasertec Shape technology, company representatives are fully aware of the fact that it is a big step forward for the industrial sector. Especially for automotive engineering, in this field of manufacturing Lasertec Shape offers a complete alternative to traditional etching methods. Not just automobile industry but also other industrial fields can without a doubt benefit from higher precision of production which DMG machining centers offer compared to standard milling machines.
DMG Lasertec Shape – Area of use
Laser texturing performed by Lasertec Shape machines by DMG Mori provides unlimited possibilities for PET bottles blow moulds production. In terms of technical surfaces design, watch-making industry can also enjoy the benefits of the precise work performed by DMG Lasertec Shape machines. According to Benjamin Krummenauer, Product Manager Shape at the DMG Mori Group subsidiary,  "Laser texturing provides almost limitless possibilities for the design of technical surfaces with absolute reproducibility". The large benefits of Lasertec shape machining probably need no further explanation.
Advantages of Lasertec Shape machines
To get right to the point, here is the list of all the benefits machining with Lasertec shape series can bring to any related manufacturing sector.
5-axis machining. Machines from DMG Lasertec Shape series have an integrated NC swivel rotary table whichcan accomodate workpieces of up to 840 mm in diameter and allows to enjoy the benefits of 5 axis machining.
Lasertec Shape machines boast highly compact and stable monoBLOCK® design. Machines can be operated on the area of less than 8 m²!
New Direct Drive technology by DMG Mori assures top dynamics during production process.
Machines come with the latest versions of hardware and software integrated which allows the top production performance.
Laser only Pure 5-axis laser machine with integrated laser head in the headstock.
LASERTEC 75 Shape: the future
Speaking of the future, DMG Mori is always prepared for further growth and development. Only recently they have introduced a new model, compact LASERTEC 75 Shape, in the portfolio for laser texturing. LASERTEC 75 Shape is fully equipped for Industry 4.0. Operating on just under 8 m², this model can satisfy even the most limited production environments. LASERTEC 75 Shape boasts a highly ergonomic design with a generous door opening of 1,310 mm providing access to the fully equipped work area.
Workpiece dimensions
Maximum workpiece diameter should be up to 840 mm and maximum height up to 520 mm. Workpiece can weigh up to 600 kg  (with the optional tandem drive up to 1,000 kg). The inner space of the machining center can easily accommodate workpieces of these dimensions since the traverse paths dimensions are 750 mm x 650 mm x 560 mm in the X, Y and Z axes.
Core elements of LASERTEC 75 Shape
What is inside of the LASERTEC 75 Shape machine? The core elements include the 100 W power fibre laser and 3D processing optics for smooth performance. These two elements provide provide contour-parallel laser shaping in combination with the NC swivel rotary table. 3D fibre laser is also responsible for the material removal layer by layer. Thanks to the optimized performance, fast and smooth laser texturing is also possible for 3D workpieces.
When it comes to the control system, DMG MORI relies on a SIEMENS 840 D solutionline for the LASERTEC 75 Shape. Combined with CELOS, the machine can also be optimally integrated into the company organisation. User-friendly and application-related LASERSOFT software features ensure simple and productive operation of the LASERTEC 75 Shape.