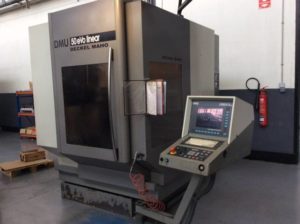 Vertical machining centers belong to one of the bestselling product categories on Exapro website. The current Exapro catalog has hundreds of used vertical machining centers for sale.
Thus, it's not always clear how beneficial vertical centers can be for the business and how to make the right choice among dozens of manufacturers. Consider this article as a brief yet multipurpose guide to help you purchase used vertical machining center from Exapro.
Metal – machine tools
Category of Metalworking machines is one of the bestselling product categories in Exapro online catalog of used machinery. Machines designed to work with metal are the most popular pieces of equipment across various industrial fields. For better user experience, we've divided the main category of Metal – machine tools into a number of subcategories. And in this article, we're about to introduce Vertical machining centers.
Vertical Machining Centers for Sale
Vertical machining centers, also called CNC vertical machine center,  represent metal cutting machines. Automatic vertical machining centers operate in a similar way as CNC milling or drilling machines, where CNC stands for Computer Numerical Controlled machines. Machining centers are designed to machine metal (as well as wood or other solid materials) and can be positioned vertically or horizontally. VMCs (Vertical Machining Centers) carve out metal based on a pre-existing model, hence these machines are widely used in mold making.
VMCs are fully automated, the only manual input required from the operator is while loading and unloading manufactured parts. The difference between horizontal machining center and a VMC is that vertical center is using a vertical spindle with milling heads which are moving on its axis. Modern vertical machining centers have integrated software allowing users to switch between modes: from drilling to milling and boring.
VMC's Strong Points
Thanks to a tight tolerance in the milling process, vertical machining centers are mainly used for high-precision production. Reliable and efficient equipment guarantees durability and long-term accuracy. Temperature stability is acquired through the system of integral cooling. Speaking of CNC controls, this feature allows to simplify programming and increase productivity overall. Vertical machining centers cover a variety of different production operations, on scales from small individual parts to large, heavy-duty milling tasks.
Area of Use
Vertical centers are machines with an exceptionally high degree of accuracy of production. Thanks to this feature, VMCs are used in various sectors such as the automotive industry, aeronautics, medical industry, watch- or jewelry making. Vertical machining centers for sale are considered to have the best price/quality ratio in the metalworking industry.
Thanks to personal computer revolution, manufacturers have even started producing budget versions of CNC vertical centers. These machines are small enough to sit on one's desk and cut materials softer than stainless steel. Such machines have quickly been adopted by artists and designers, allowing to make anything from a piece of jewelry to fine art.
Best Manufacturers
Main manufacturers of vertical machining centers are companies with a long tradition and best reputation throughout the years. All of these manufacturers are represented in Exapro online catalog of used vertical centers:
Bestsellers
Bestsellers are the machines which proved to be the most attractive for buyers. Please see the examples of bestselling vertical machining centers for sale below:
Do you have used metalworking machine for sale? You can sell it now on Exapro, adding your offers is free!
Thank you for reading our articles, stay informed about the industrial world and Exapro by following us on Exapro Hub, Facebook, Twitter and LinkedIn.