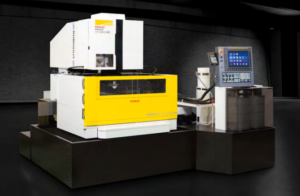 FANUC (Fuji Automatic NUmerical Control) is the world's leading manufacturer of machine solutions and CNC systems. Company represents a joint venture of 3 corporations: FANUC Japan, FANUC America and FANUC Europe. One of the biggest industrial robot makers, FANUC has over 60 years of experience developing computer automated solutions. 
With over 240 subsidiaries and offices in 46 countries, FANUC is a global producer of CNC controls in a true sense of the word. Global share of 65% of the world's market of CNC controls belongs to FANUC, making it the leading manufacturer in the field of automation of production systems.
FANUC on Exapro
In Exapro online catalog, FANUC machines are represented mainly in the following product categories:
Wire cutting EDM machines. Wire EDM technology is using electric current to cut metal. The final product has a smooth surface, requiring no further finishing. New generation of FANUC EDM wire cutting machines comprises three versatile all-rounders securing low maintenance and drive down unit costs.
Injection moulding machines. Injection moulding machine is used for manufacturing of plastic parts and products. The process of production starts with liquid plastic being injected into the mold. Plastic than solidifies to create the final part in a shape of the mold. FANUC applies CNC technology to the process of injection moulding providing great precision and fast production of the plastic parts.
Industrial robots. The future of factory automation is in tight connection with development of robotics industry. Industrial robots are programmed to perform individual production tasks ensuring smooth run of manufacturing process. FANUC industrial robots provide smart solutions for production systems.
FANUC Industrial Robots
The main focus of FANUC manufacturing has lately been on production automation – industrial robots. FANUC offers the widest range of industrial robots to companies and end users to ensure smooth operation and full automation of production. Current range has over 100 industrial robot models on offer, all robots being totally flexible when it comes to their operation. What's more, all of FANUC's robots, CNC solutions and machines are built on a common control platform. This means that industrial robots can be qucikly integrated into company's machine concepts. Robots can be connected with machines thanks to developed FANUC interface.
FANUC and MachiningCloud Partnership
Recently, FANUC Corporation and MachiningCloud have announced their partnership. First, let's say a word or two about FANUC's new business partner. MachiningCloud is a product software provider for CNC machines and cutting tools. On the other hand, FANUC corporation is the developer of Intelligent Human Machine Interface (iHMI). This know how allows to provide consistent support of shop floor operation during the three production stages: Planning, Machining and Improvement.
Intelligent Human Machine Interface by FANUC is not just a display function but also the platform for the Internet of Things. IoT feature enables to upload information to the machine as well as share it within the whole production system. Partnership of FANUC with MachiningCloud is meant to integrate the management of tooling resources within one platform. MachiningCloud is going to provide tool data critical for their import to CNC machines and iHMI.
As FANUC's corporation representative states: "With MachiningCloud, FANUC's customers will have a simpler way to find the right cutting tools as they will have direct access to current and complete tooling data without the hassle of searching through printed catalogs and multiple websites to find ideal tooling. This convenience and accuracy will save time and increase efficiency on the shop floor".
How to Buy FANUC Machine on Exapro
To start your search for FANUC machine, you can type in "Fanuc" in the search window on Exapro main page. This way you will get results for all FANUC machines currently listed on Exapro. If you are looking for a specific product category, e.g. FANUC injection moulding machine, you can visit the category page of Injection moulding machines and use the filter on the left to choose the manufacturer brand. If you have a FANUC machine for sale, you can list it on Exapro for free.