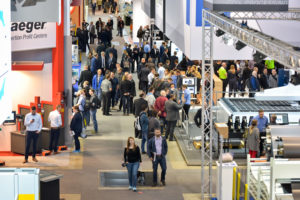 The BlechExpo Trade Show 2017 was taking place in Stuttgart from Tuesday 7th to Friday 10th of November. Etienne Fournier, Exapro export manager for German market, attended the last two days of the show in order to keep pace with the current situation in SheetMetal machines sector. The main objective of Etienne's visit was to improve sheetmetal category for German speaking countries segment and to widen the knowledge in the field of sheetmetal machinery.
BlechExpo Trumpf
BlechExpo is the second biggest trade fair for sheet metal processing in the world. Over 1,300 international exhibitors introduced their sophisticated products and innovations. And of course, all the major global players were attending the event. First of all, Trumpf with its delegations of couple of hundred people and a giant stand where we could see at least 10 different machines working at the same time. They also were introducing their concepts of the smart factory and the industry 4.0. (especially connected to their new project of a factory in Chicago). Other big players in sheetmetal industry such as Amada, Bystronic, PrimaPower also presented their stands at BlechExpo 2017. Overall, a wide range of new technologies, tooling and machines for sheet metal processing was introduced in Stuttgart.
Biggest event in sheet metal processing
BlechExpo trade show in Stuttgart actually represents a connecting lead between sheet metal, pipe and profile processing industry as well as mechanical cutting and joining of metal materials. No other trade fair is able to bring the same value to metalworking industry experts. This is another reason why global sheet metal processing leaders like Mazak and Boschert participate in BlechExpo fair every year. However, BlechExpo Trumpf stand was hard to beat, photographs speak for themselves: seeing Trumpf press brakes and other sheet metal machines in action was a powerful experience.
Establishing partnerships at BlechExpo
Many of Exapro partners were also there during the show and that was a very valuable experience for Etienne to finally meet them face to face. In Exapro, we highly appreciate long term partnerships and good partners relations, so meeting at events like BlechExpo allows us to establish a better trustful relationship and to keep improving the communication. International trade fairs not only bring a chance to strengthen current partnerships but also build new relations and broaden business horizons for any metalworking professional. Etienne stresses the fact, that even being an online trading platform, nothing can replace human interaction and personal contact – there is no more perfect way of building trust between business partners.
International experts in sheet metal
BlechExpo 2017 experienced great interest from the visitors side with over 39,000 expert visitors attending the fair. The visitors crowd was extremely international, sheet metal professionals coming to Germany from all around the world (list of attending nations got to number 116). Following 2016 trend, variety of visitors exhibitors increased once again. European sheet metal experts were accompanied by Asian colleagues which is a very positive tendency. According to BlechExpo internal records, internationalism of the audience experienced a significant rise from 24% in 2016 to 30% in 2017 by almost one third of the visitors.