Here is a big announcement in the world of auctions of used industrial equipment! After buyers and sellers, auctioneers are now joining the world's largest network of industrial equipment.
How come? Thanks to a new resource tool called Bidsuite powered by industrial experts: Exapro, Bidderlists, and Kitmondo.
Presented as an all-in-one digital resource center for anyone interested in industrial machinery around the world, the performing tool aims to "connect the Industrial World to facilitate auctions".
It brings the highest possible quality of service and the most beneficial insights after 35 years of combined experience.
We are more than happy to present you how Bidsuite can truly help you and maximize your return on investment.
Bidding online is a revolution and Exapro wants to be a part of it.
Bidsuite Is the Auction Solution You Were Waiting For
Since a few years, bidding online is growing significantly and by using a tool like Bidsuite you could really make your life easier if you're on the market for industrial and professional equipment.
If you're not using any solution or looking for a new one, here are the advantages of using Bidsuite.
A dashboard to check results after each auction
User-friendly, all-in-one, and fast. This is how we could describe Bidsuite, but there is more to tell about it.
To begin, if you're looking for an effective tool for auction advertising, Bidsuite provides you the best with a personal dashboard from where you get relevant information from your marketing efforts.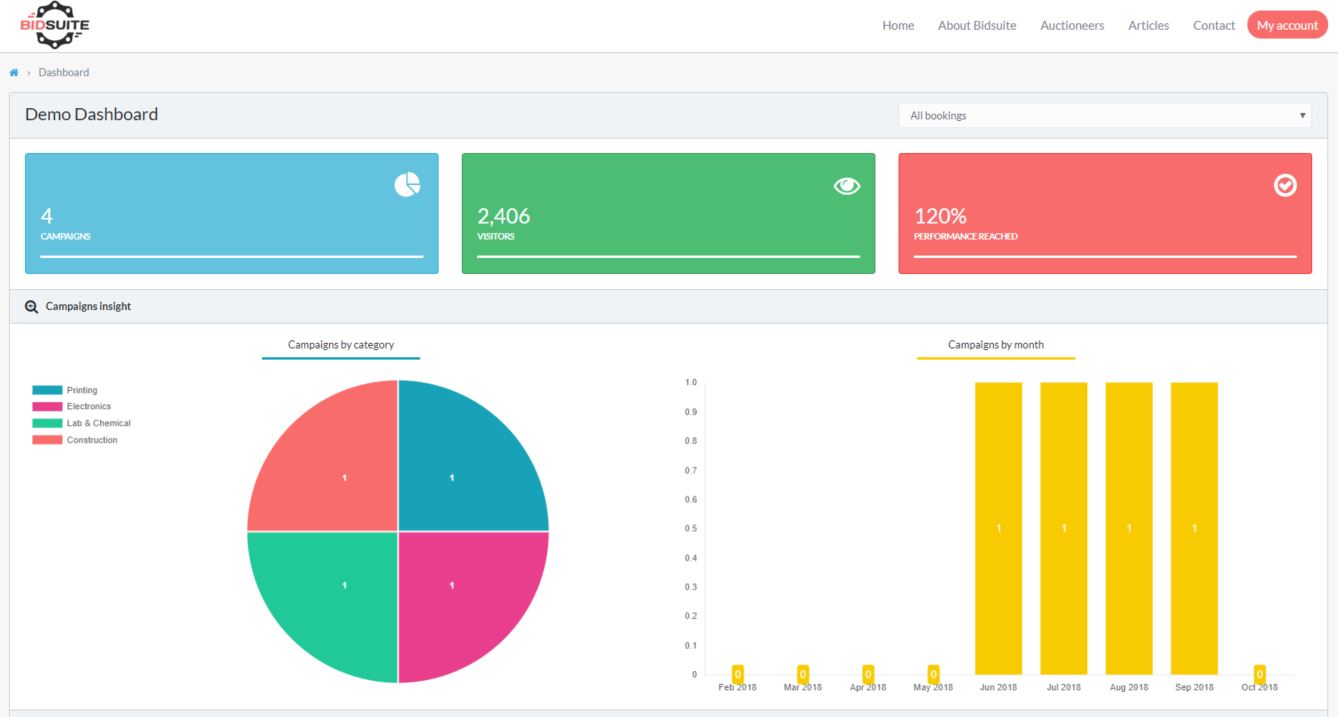 With Bidsuite, you optimize all campaigns thanks to detailed data and can take smart strategy after each one of them. Handy isn't it?
This is a huge help as auctioneers can easily see which assets are driving traffic to their auctions.
Auctioneers, Buyers, and Sellers Are More Connected than Ever
Bidsuite gets things even easier for sellers to find the best partner to sell equipment. Auctioneers reach relevant and active buyers who are ready to bid now. Buyers can then purchase the equipment that matches their needs.
Nothing is as simple as this, and everything is made in a clear and relevant way.
Whatever the need is, a large variety of auctions can be found on Bidsuite, and it's easy to know about any auctioneer. Have a look at the list and start to learn more about all of them.
Choose right now your future partner via different criteria such as location or industry field.
On top of that, bidding doesn't have to be scary or stressful anymore. That's why the Bidsuite team publishes every week some interesting articles to help you get a better auction knowledge base and feel more confident about your first bid!
We hope you are as excited as us about Bidsuite, and the whole Exapro team invites you to visit the website and get more information about this powerful suite already trusted by many industrial auctioneers.
Thank you for reading our articles, stay informed about the industrial world and Exapro by following us on Exapro Hub, Facebook, Twitter, and LinkedIn.